Kathryn Dungy
Chair and Associate Professor of History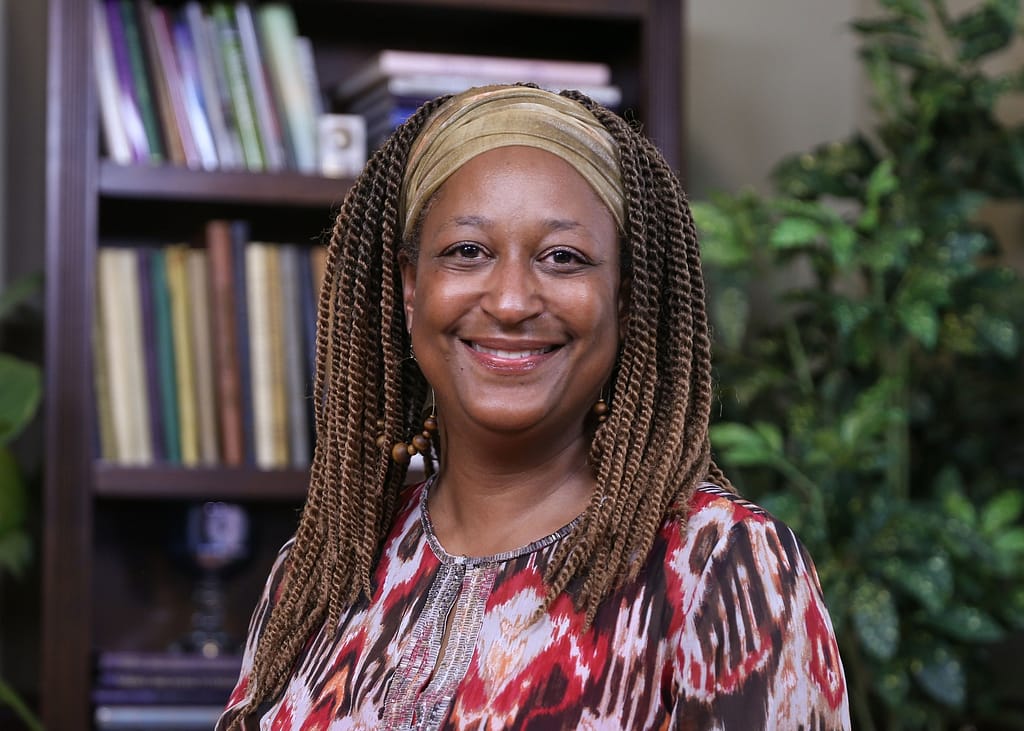 Bio
M.A., Ph.D. Duke University
B.A. Spelman College
Areas of Expertise:
Social and cultural history of Latin America and the Caribbean; gender and race identity; Atlantic World, Antebellum U.S.
Courses I Teach:
Colonial Latin America
Early Caribbean
Modern Latin America
Modern Caribbean
Race, Class and Gender in the Americas
Slavery in the Americas
Senior Seminar
Research
I love to integrate my research into my teaching. You will often find pictures from my research trips in my lecture slides and papers or articles discovered at conferences introduced as readings for classes. Presently I am working on a manuscript entitled The Conceptualization of Race in Colonial Puerto Rico, 1800-1850, which I hope to have published in the near future.
Interview
Life Off Campus:
I love to travel and am a huge advocate of study abroad (I spent my junior year abroad in Costa Rica and the Dominican Republic.). My hobbies are photography, embroidery, and cross-country skiing. When at home I spend my time gardening, cooking with my husband, and playing with my cats – a Burmese, Antonio Maceo and a Bombay, El Hajj Malik el-Shabazz.
Recent News
Kathryn Dungy, chair of the Saint Michael's College History Department, made a guest appearance Thursday, March 25, on Vermont Viewpoint, the morning show hosted by Ric Cengeri on Waterbury station WDEV." Kathryn is a member of Delta Sigma Theta sorority and spoke with Ric about the intersection of U.S. history, African American history and the ideals and values of the sorority and other Divine9 service organizations. In June, Kathryn was a guest panelist on Vermont Public Radio for a program titled ("Un)fractured: Experiencing Intersectionality In Vermont." It was broadcast on Saturday, June 12, 2021 at noon. This episode was the second community conversation in the (Un)fractured series exploring issues of racism and inequality.
(posted July 2021)
Kathryn Dungy of the history faculty on January 14 made an online academic presentation at the Louisiana Historical Association Virtual Conference. The paper [and conference] was originally scheduled for spring break in March 2020. Says Kathryn, "The LHA wisely chose to postpone the conference and is now offering all of our work in a series of online panels. Kathryn's recent presentation was titled "Fighting Mob Law: Louisiana and the ushering in of a violent Reconstruction era," about the Louisiana mob killing of an African-American, William Meadows, in 1869. Kathryn's paper explores "the turbulent story of race relations, political upheaval, and social change in Louisiana during the early years of Reconstruction." Also Kathryn and her History Department colleague George Dameron offered introductory remarks for the 30th annual Norbert A. Kuntz Memorial Lecture for Fall 2020, delivered virtually because of the pandemic by Elise Guyette, PhD, a Vermont teacher, historian and author of the groundbreaking book Discovering Black Vermont. The talk was titled "The Jagged Edges of Progress."  The link was viewable from November 19 through December 20.  Kathryn also was quoted extensively in an early-fall story from Seven Days, the Burlington weekly newspaper and website, about women's suffrage and recent Vermont celebrations to commemorate the ratification of the 19th Amendment giving women the right to vote. Kathryn also this summer wrote a well-received and powerful essay about prominent social issues of our day, particularly issues of race, in the form of a letter that appeared on the Vermont news website vtdigger. And, Kathryn was among a group of fourteen distinguished scholars of U.S. and Atlantic World slavery who sent an open letter to Jon Parrish Peede, chairman of the National Endowment for the Humanities. The letter calls for a renewed push to help our nation's K-12 teachers address slavery and its legacies more clearly and confidently.
(posted February 2021)
On Juneteenth [June 19], Kathryn Dungy was among a group of fourteen distinguished scholars of U.S. and Atlantic World slavery who sent an open letter to Jon Parrish Peede, Chairman of the National Endowment for the Humanities. The letter calls for  a renewed push to help our nation's K-12 teachers address slavery and its legacies more clearly and confidently. Properly educating our citizenry regarding slavery and its legacy of racial inequality and injustice is of paramount importance, especially given the current cultural climate in our nation and globally. Educating our K-12 professionals is a powerful way to assure the next generation of U.S. citizens gets a more honest understanding of our troubled past, and how to "create a more perfect union." Here is the letter:
Dear Chairman Peede:
At a conference in Hawaii last year, you read "At the Same Time," a poem by W.S. Merwin. Then you told listeners: "Merwin is warning us, in his manner, to not turn away from the storyteller, to not turn away from the story. We should heed him." We could not agree more. In these crucial times, when key institutions seek ways to make a positive and lasting difference, NEH has a huge and unique contribution to make. As a dozen scholars of African American history, we've taken part in NEH summer programs and know how very effective they can be. On behalf of all teachers, we write this open letter urging NEH "to not turn away from the story." You can make a huge difference.
We trust that you, your board, and your division leaders are stopping to reflect on how to go beyond mere words. What is the most positive and effective response to the calls for serious change and broader understanding that are being heard around us? We are hopeful that you and others at the NEH will "not turn away," but will turn inward and ask questions such as: What more can the NEH do to address the on-going racial inequality and racial injustice that pervades all aspects of American life? We wish to urge one well-tested and "shovel-ready" proposal involving teacher training.
In the past, NEH has addressed slavery's role in shaping the United States by supporting research projects, educational programs, exhibits, documentaries and digital humanities projects. It should be proud of this important work which has touched millions of citizens. But we believe that at present, the NEH can and must find the will to do more, building on its past successes and reaching out to teachers. As you know, many studies have shown that Americans lack knowledge of their own history, especially when it comes to slavery and its legacy of racial inequality and racial injustice. A 2017 study by the Southern Poverty Law Center about the teaching of slavery at the K-12 levels found:
Schools are not adequately teaching the history of American slavery, educators are not sufficiently prepared to teach it, textbooks do not have enough material about it, and – as a result – students lack a basic knowledge of the important role it played in shaping the United States and the impact it continues to have on race relations in America.
This dilemma is old and large, and the best way to address it directly is through the strengthening of classroom teachers so they feel equipped and confident to address this difficult history with their students. As you know, one critical way the NEH imparts historical knowledge is through its summer institutes and seminars, for K-12 and college level teachers. Participants in these professional development experiences return to their classrooms better able to teach their students effectively. Over their teaching careers, these educators share what they learned in an NEH workshop with thousands of citizens.
Given the enormous success of these well-managed NEH teacher workshops over the years, it was surprising and disappointing to see that of the 42 summer seminars and institutes the NEH funded in 2020, only five deal with African American historical subjects. None directly address slavery and its legacy of racial injustice.
You have made the prescient observation that "inclusion matters. But you have to make it manifest in a real way." We agree. What better way to make inclusion manifest than to help teachers and their students confront and work through this hard history. Slavery Matters! We feel it is crucial for ALL Americans finally to understand more fully the importance of generations of forced racial enslavement, and we know the NEH can contribute in a vital way. We believe teaching about slavery should now be a top priority of the NEH. It is as important as the civic education you often stress well. Indeed, it is the root of racial inequality and racial injustice that pervades all institutions in American life. As historians and educators, we know that when people learn the "hard history" of slavery and its on-going repercussions, it opens up their eyes to systemic racism and empowers them to build a society where all people are truly equal and free.
As never before, Americans are crying out for more knowledge of race slavery and fresh understanding of the role systemic racism has played in our nation's history. How will the NEH respond? This time, let's "not turn away from the story." Please encourage all the NEH division directors to find effective ways to educate our citizenry regarding slavery and its legacy of racial inequality and injustice. As a vital start, we urge you to redouble efforts with the summer teacher training programs, creating new workshops and refunding those that worked especially well in the past. There is no time to waste. If we and others can assist, please don't hesitate to contact us.
Sincerely,
Hasan Jeffries – Professor of African American History, The Ohio State Univ.; author of Teaching Hard History: A Framework for Teaching American Slavery.
Jennifer L. Morgan – Professor of Social and Cultural Analysis and History, New York University; Chair of Council and member of Board of Directors, Omohundro Institute of Early American History and Culture, Williamsburg, VA.
Nikki Taylor – Chair of the Howard University History Department and Board Member Emeritus of Historians Against Slavery.
Peter H. Wood – Emeritus Professor of History, Duke University; author of Black Majority and Strange New Land, Africans in Colonial America.
Marsha J. Darling – Adelphi U, Prof. of History; Director of African, Black & Caribbean Studies.
Celia E. Naylor – Prof. of Africana Studies and History at Barnard College, Columbia University; co-editor of the Oxford Handbook of African American History.
Tomiko Brown-Nagin – Dean, Radcliffe Institute for Advanced Study; Daniel P. S. Paul Professor of Constitutional Law and Professor of History, Harvard University
Herman L. Bennett – CUNY Graduate Center; author of African Kings and Black Slaves: Sovereignty and Dispossession in the Early Modern Atlantic​.
Kathryn Dungy – Associate Professor of History and Chair of the History Department at St. Michael's College, Colchester, VT, teaching courses on Slavery in the Americas
Marjoleine Kars – Associate Professor of History, U. of MD-Baltimore County; author of Blood on the River: A Chronicle of Mutiny and Freedom on the Wild Coast.
Anne Valk – Prof. of History, Exec. Director, American Social History Project/Center for Media and Learning, City University of New York Graduate Center
Charles W. McKinney – Rhodes College, Memphis, Tennessee, Neville Frierson Bryan Chair of Africana Studies and Associate Professor of History.
Blair L.M. Kelley – North Carolina State U., Assistant Dean in the College of Humanities and Social Sciences, Assoc. Prof. of History; Public History graduate program.
Vincent Brown – Harvard University, Charles Warren Professor of American History and Professor of African and African American Studies; author of Tacky's Revolt.
(posted July 2, 2020)
Kathryn Dungy of the Saint Michael's history faculty was among seven scholars speaking at a February 29 symposium at Duke University when that institution's Graduate School and Forum for Scholars and Publics hosted an event to honor Dr. Julius S. Scott and his book, The Common Wind: Afro-American Currents in the Age of the Haitian Revolution. As a report on the Duke website notes, "The participants all pursued their Ph.D. at Duke in the decade after Scott had finished his, and many were his students and mentees while he taught at Duke from 1988 to 1994. As the mentor listened and wiped away the occasional tear, the protégés recounted what his scholarship, mentorship, and teaching meant to them and to the study of Atlantic history and the African diaspora." Later the item notes, "Dungy (Ph.D.'00), an associate professor at Saint Michael's College in Vermont, said she spent much of her first couple years at Duke in the armchair in Scott's office, reading books that he had given her from his shelf, including The Common Wind, 'He never pushed me out when somebody else would come into the room,' Dungy said. 'It became a community of scholars, and we were all working on this project of redefining history. … And we have changed the world. The scholarship that is out there—the paradigm has shifted, and it's because of The Common Wind, and we're that wind.'" Kathryn also was, along with history faculty colleague Susan Ouellette, a presenter for a four-part "New Virtual Symposium, Centennial of Women's Suffrage: One Event, Many Perspectives," presented by the Ethan Allen Homestead in Burlington on May 16. Kathryn presents in the videos on "The Courage of their Convictions: African American Women in the Fight for Women's Suffrage."
(posted June 2020)
Kathryn R. Dungy, associate professor of Caribbean and Latin American History, presented paper at international conference Slavery in the African World: Interrogating the Past and Confronting the Present hosted by Tennessee State University in Nashville, TN in March 2019. Her conference paper was titled "We point to Liberia as our promised Land": The Liberia Colonization project through the eyes of colonists John B. Russwurm and Martin Henry Freeman on the conference panel, Historicizing Slavery across Time and Space." Kathryn also gave an Invited Lecture at Spelman College, Atlanta GA Tuesday, February 4, "An Experience of a Lifetime:  Developing your Professional Interests through Study Abroad  – _ A Talk with Dr. Kathryn Dungy, CIEE Board of Directors Member & Spelman Alumna '91." Kathryn is also  under contract with Cognella, Inc to co-edit a textbook tentatively entitled Becoming Latin America: A Social and Cultural History of Colonial Latin America from pre-Columbian times to 1825.
(posted February 10, 2020)