Peter Harrigan
Professor of Fine Arts: Theater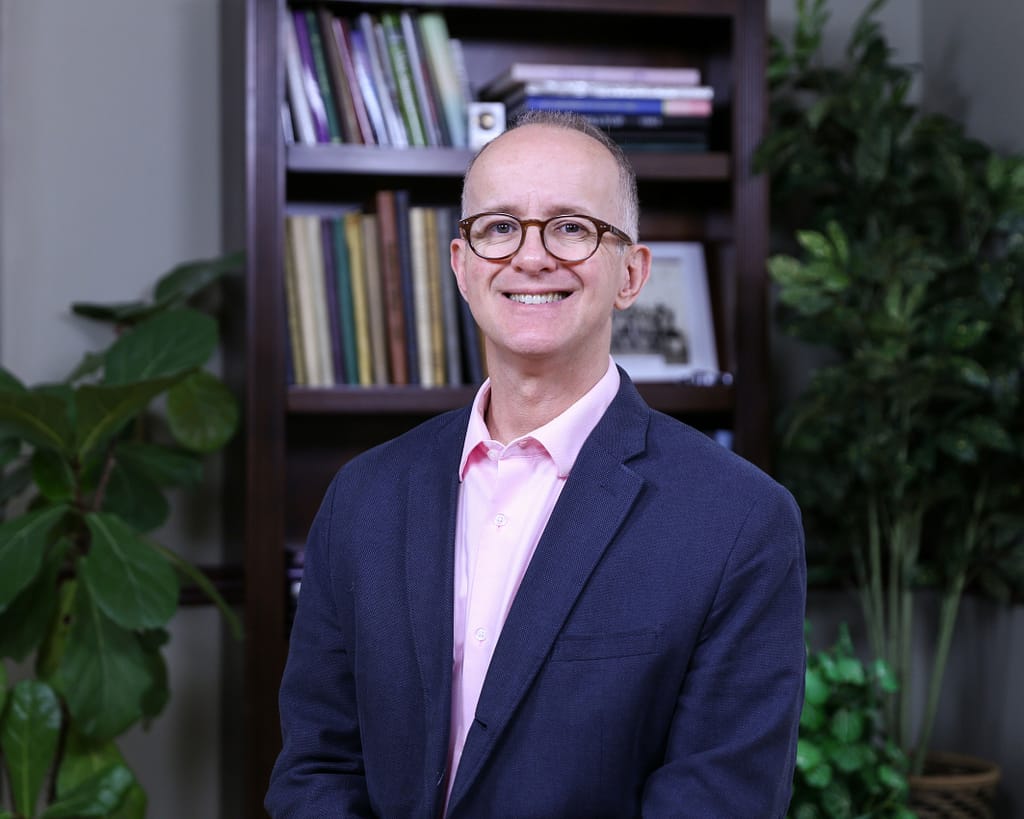 Bio
MFA in directing, University of Pittsburgh, 1986
BA in drama and English, Saint Michael's College, 1983
Areas of Expertise:
Theater directing and costume design
Courses I Teach:
Acting – 2 levels
Chief Patterns of Western Theatre II
Directed Studies – Costume Design, Costume Construction, Stage Management, Directing and Dramaturgy
Directing – 2 levels
First Year Seminar: Defining Self and Community (1996, 1997)
First Year Seminar: Peace and Justice (2001, 2002)
Introduction to Theatre
Oral Interpretation of Literature
Principles of Speech
Principles of Stage Costuming
Senior Seminar in Fine Arts
20th Century Fine Arts
Research
Research Interests:
Theater directing and costume design
Awards & Recognition
Recent work (scholarship and creative):
Playwrights Horizons, NYC: Fabulation (assistant to Lynn Nottage)
Actors Theatre of Louisville: Amadeus (assistant to Kate Whoriskey)
Directing (professional):
Saint Michael's Playhouse: the Boys Next Door; Lend Me a Tenor; Grease; the Mystery of Irma Vep; the Fantasticks; Beau Jest; the Unexpected Guest; I Hate Hamlet.
Three Rivers Shakespeare Festival, Pittsburgh, PA.: Goodnight Desdemona, Good Morning Juliet (U. S. Premiere)
Directing (academic):
Saint Michael's College, Fine Arts Department: Woyzeck (11/05); JB; Museum; And Then They Came for Me: Remembering the World of Anne Frank, Picasso at the Lapin Agile; Tartuffe; Top Girls; Hamlet; the Illusion*; Mad Forest; Company; Execution of Justice
*Alternate for American College Theatre Festival
Costume Design:
Over 50 productions in professional and academic venues. Some recent designs include Blithe Spirit, Once on this Island, the Bacchae, and A Midsummer Night's Dream
Co-Author:
Introduction to Performance (Dubuque, Iowa: Kendall/Hunt Publishing), currently in its third edition.
Interview
A Standing Offer:
I would be happy to give any prospective theater student a tour of the McCarthy Arts Center, have you sit in on my classes or rehearsals, see a show, and introduce you to Saint Michael's College students who can answer your questions.
Favorite Quote:
"We become just by doing just actions, temperate by doing temperate actions, brave by doing brave actions." – Aristotle
Recent News
Peter Harrigan of the fine arts/theater faculty during the fall semester directed the Mainstage play, the Irish-themed Dancing at Lughnasa," overcoming many obstacles posed by the pandemic to make the show available to limited but enthusiastic audiences. Peter also joined a panel of faculty to discuss the Irish context of the play, including Biology Professor Declan McCabe, Religious Studies Professor James Byrne and President Lorraine Sterritt, all of whom grew up in Ireland. John Devlin of the fine arts/theater faculty, the set designer, also joined the discussion.
(posted February 2022)