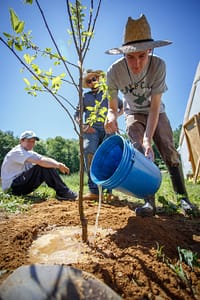 We all have choices to make about our actions and how to support a sustainable world. And, we all can help move ourselves, our community and our planet toward a healthier future.  Our sustainability efforts focus on the strong sense of community among our students, staff and faculty.  Explore the projects below to see how we are integrating sustainability behaviors into the campus culture.  These are just a handful of different initiatives, and we're always looking to create new ways to engage and educate.
"Never doubt that a small group of thoughtful, committed citizens can change the world. Indeed, it is the only thing that ever has." – Margaret Mead
Become a student representative on our Sustainable Campus Team
The Team makes use of diverse points of view to generate effective and sustainable solutions to complex institutional problems. This year the committee is developing a new policy on reducing Single-Use Plastics (SUP's) on campus, an initiative that is being promoted by our student representative, the Eco-Reps, and the student club Green-Up.
Eco-Rep Program
Apply to be one of our Eco-Reps, who are undergraduate leaders and student employees who foster environmental responsibility on campus. They educate students about sustainability issues, distribute information, and create, coordinate and host activities in the residence halls, operating on the philosophy that we can improve our relationship with the environment by making simple changes in our own lifestyle. They work on many programs, such as our Zero Waste initiative, the Bee Campus program, and residence hall competitions.
Find a job or volunteer at the Farm at SMC
The Farm employs many students and supports courses and internships during the academic year and the summer, and has many activities throughout the year that involve volunteers and friends of the Farm from across our campus community.
Join Green Up
This is a student club committed to reversing the effects of global warming and climate change by promoting positive energy conservation on Saint Michael's Campus.
Environmental Classes and Internships
Take a class on Intensive Farming Techniques or Environmental Science. Work with a faculty member on the restoration initiative on our Natural Area. Work on a credit-bearing academic internship on a campus-based or off-campus environmental project related to your major field of interest.