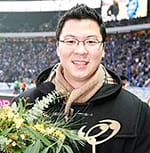 Major: Political Science
Minor: International Business
Graduate degrees: PhD in East Asian Studies, University of Bonn (Germany); Masters in International Relations, University of Kent at Canterbury (United Kingdom)
What do you do for a living?
I am the Head of International Health Cooperation and oversee recruitment processes of foreign skilled labour to Germany and develop and oversee implementation of programs/activities at the national and international level with governmental organization and NGO's. I identify and oversee development at the strategic level In coordination with relevant units, establish appropriate mechanisms to tender bids, negotiate contracts and oversee the administration of program activities nationally and internationally.
From 2015 to 2018 I worked as Deputy Sport Manager for Ice Hockey and World Para Ice Hockey for the PyeongChang Organizing Comittee for the 2018 Olympic and Paralympic Winter Games. From 2004 to 2005 I played professional hockey for the Krefeld Pinguine (Penguins) in the German Elite League. I have written three books that have been published by EB-Verlag, Random House and Piper Verlag.

How did your experience at Saint Michael's help prepare you for your career?
My time at St. Mike's helped me in shaping the person I am today. In the sense to understand that as intellectual and scholar it is one's obligation to use your privilege for noble causes and not hide behind your academic titles. I admire St. Mike's and the professors that taught me to become a critical thinker, to be a person of values, to be not afraid for when time amidst to throw it all away for the right cause.
What is your favorite memory from your time at St. Mike's?
One of my favorite memories are the classes with Professor William Wilson, Trish Siplon, Ke-Wen Wang and Roger Putzel. They were always a highlight and enlightening. I really enjoyed the close atmosphere and relationships between students and professors encouraging and challenging you to analyze things, not to trust in appearances and not to keep at the first judgement and always fueling your passions. All of them were always available to discuss political topics long after classes finished. Overall I had an incredible education experience at SMC that I have never experienced again during my graduate studies.