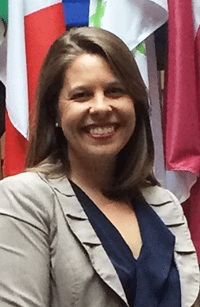 Major: Political Science
Minors: International Business, Global Studies
Graduate degree: Masters in International and Public Affairs, Woodrow Wilson School at Princeton University
What do you do for a living?
I have been employed by the U.S. Department of State as a Foreign Service Officer since 2010. I work on implementing U.S. foreign policy and fostering U.S. relations with other countries at U.S. Embassies around the world. I have served in Bangui, Central African Republic, Buenos Aires, Argentina, on the Executive Secretariat Staff for Secretary of State John Kerry in Washington, D.C., and in the Office of European Union and Regional Affairs also in Washington, D.C. My next assignment will be in Bern, Switzerland beginning in the Spring of 2019.
How did your experience at Saint Michael's help prepare you for your career?
When I serve at U.S. Embassies overseas, I work in the Political Section of the Embassy, reporting on the host government and striving to improve U.S. relations with that government and its people. Saint Michael's College was an excellent foundation for better understanding different forms of government, learning not to take statistics at face value, and thinking creatively about our own government and systems.
What is your favorite memory from your time at St. Mike's?
Anything in the Political Science Department! From my very first Intro to Politics class with Professor Novotny that confirmed it was the right major for me, to Professor Siplon's Research Methods that helped me survive graduate school, to Professor Hughes' Constitutional Law course that deepened my appreciation for the U.S. legal system, to Professor Bosia's Comparative Politics course that opened my eyes to different forms of governments, to Professor Ayres' U.S. Foreign Policy course that helped prepare me for my career today – all of these courses deepened my understanding of our country and its role in the world today.
Any advice for students at St. Mike's?
Current students: it's never too early to start looking at career options. Take advantage of the career center and start researching websites in any industries in which you're interested. Many agencies, businesses, and industries offer fellowships and opportunities that can translate into careers. However, many fellowships and job opportunities are no longer available to you once you're no longer a student. Apply everywhere and anywhere, and don't be surprised when you have options and a job on graduation day!