Lenten Prayer Opportunities and Events
Lenten Season 2021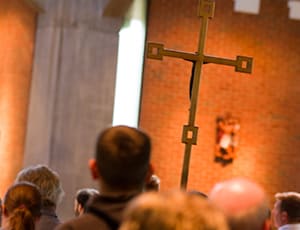 Each year, Catholics set aside 40 days to "rend our hearts" and "return to God." All of us are given this opportunity to deliberately examine what we are doing well and what we are doing not so well, and we are invited to come back to God.
As we start this journey called Lent, let us take some time to understand where we are in our faith lives and where we would like to go during the season. We invite you to use this page as a guide. It contains many individual and communal opportunities for prayer and reflection that may be of interest to you on your spiritual journey and all people of faith are invited to participate.
Together, let's look forward to receiving a renewed sense of the fire of God's love for us and the forgiveness that is always freely offered to us as we prepare for the Risen Christ Jesus at Easter.
Prayer & Reflection Opportunities
Message from Rev. Brian Cummings, S.S.E.
In recent weeks I have been thinking of the cycle of life from its beginning to its natural end noting how it repeats itself from year to year and how it plays out in our daily lives. From the time we celebrated the birth of Christ as light of the world the days have gradually become longer since the winter solstice. Although we are in the middle of winter with arctic air and frequent snow, the promise of new life is inviting us forward into spring. Nature's cycle of life and death mirrors our own in many ways. During this time of a lethal pandemic, reflecting on the fragility of life is necessary to appreciate the gift that life truly is.
Our liturgical seasons reflect the mysterious cycle of life journeying towards death being transformed in the hope of rebirth. Lent is a guiding season to frame our journey. Each year we hear the story of Jesus entering the desert to die to self so he can be life to many. He is energized and motivated by God's presence to leave the desert fortified with courage and conviction in his mission to preach the kingdom of God. His forty days in the desert can model for us what we can do in Lent. We too can enter a special time of prayer and preparation for what is to come and do so with hope.
Rev. Brian Cummings, S.S.E.