Saint Michael's No. 1 in NCAA Division II Academic Success Rate for Fourth Time in 12 Years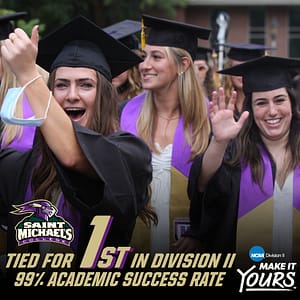 Saint Michael's College led NCAA Division II in student-athlete graduation rate for the fourth time in 12 years in 2021, as data released by the NCAA on Thursday revealed the College's student-athletes achieved an Academic Success Rate (ASR) of 99% for the most recent cycle. Saint Michael's, which tied Northeast-10 Conference counterpart Bentley University for first place, also led NCAA Division II in ASR in 2010, 2011 and 2017.
The College tied for first in ASR among more than 300 Division II schools for the 2011-14 cohort taken into account, matching Bentley while edging out Biola (Calif.) University (98%), Hillsdale (Mich.) College (98%) and Thomas Jefferson (Pa.) University (98%). Saint Michael's posted at least a 97% showing for the 14th consecutive four-year cycle, notched its 11th finish of 98% or better, and reached 99% for the third time, and first since 2011.
For the 15th straight year, Saint Michael's was one of the top two in the NE10, either outright leading the league or tying for first for the 10th time in that span. Among the NE10's 14 schools, Saint Michael's matched Bentley while besting a competitive field that included Le Moyne College (96%), Saint Anselm College (94%), Adelphi University (92%), Stonehill College (92%), Assumption University (91%) and Southern New Hampshire University (90%).
"What a proud achievement for our student-athletes," said Director of Athletics Chris Kenny '86. "Our fourth No. 1 national ranking in the NCAA's Academic Success Rate is the ultimate recognition of their hard work and dedication to academic success. The fact that this is our 14th consecutive year among the top four in all of NCAA Division II is testament to our College's longstanding commitment to supporting student-athlete development in all facets. This national distinction is possible because of the continual student-centered focus of our faculty and staff, from every corner of campus, in every aspect of the student experience here at Saint Michael's. This honor is shared by our entire community."
By tying for first among all Division II institutions, the College finished no worse than fourth for the 14th straight year, placing first in 2011; tying for first in 2010 and 2017; tying for second in 2009, 2015, 2016, 2018 and 2020; taking third in 2013 and 2019; tying for third in 2014; and capturing fourth in both 2008 and 2012.
The ASR, which this year took into account the four-year cycle of classes entering between 2011 and 2014, is in its 16th year of existence. Saint Michael's continued to record an ASR significantly higher than the NCAA Division II average, which this year was 76%. The data shows 19 of the College's 21 programs had a 100% ASR for this four-year span, as Saint Michael's led the NE10 in programs with a 100% ASR for the 10th straight year while accounting for more than one fifth of the 92 NE10 squads that had a perfect ASR. The NE10 led NCAA Division II with a conference-record-tying 89% ASR.
The NCAA annually releases the Division II ASR, a model developed at the request of presidents of Division II institutions to overcome inadequacies with the Federal Graduation Rate (FGR). The FGR only takes into account student-athletes that receive athletic scholarships, while the ASR considers all student-athletes, thus capturing non-scholarship students that represent a clear majority of the Saint Michael's student-athletes.
Of the 21 varsity sports offered by Saint Michael's, a school-record 19 earned a 100% ASR for the 2011-14 cohort: baseball, men's and women's basketball, men's and women's cross country, field hockey, men's golf, men's and women's ice hockey, men's and women's lacrosse, men's and women's skiing, women's soccer, softball, women's swimming & diving, men's and women's tennis, and women's volleyball. The remaining two were both at 90% or better.
A searchable database for ASR information and federal reports for all NCAA Division II institutions is available by visiting https://web3.ncaa.org/aprsearch/asrsearch.