Saint Michael's is known for its academic quality and commitment to students.
---
Regularly featured in the Princeton Review's Best 388 Colleges, earning a spot on their list of Green Colleges for demonstrating a strong commitment to sustainability,  and on their list of Best Northeastern Colleges its academic offerings, campus infrastructure, activities, and career preparation.
In 2022, Saint Michael's was once again named one of the Best 388 Colleges, one of the Best Green Colleges, and one of the Best Northeastern Colleges by the Princeton Review.
Saint Michael's was also named in the 2018 The Princeton Review book "Colleges That Pay You Back: The 200 Schools That Give You the Best Bang for Your Tuition Buck."
---
Saint Michael's is a part of the elite group of 286 colleges nationwide with Phi Beta Kappa chapters, one of only 20 national Catholic colleges, and one of four in New England.
---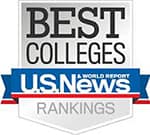 According to U.S. News in its Best College Rankings, Saint Michael's is ranked 126th nationwide for National Liberal Arts Colleges.
---
Saint Michael's College was ranked 2nd in Best Colleges in Vermont, No. 66 in the Best Catholic Colleges rankings by Niche, a popular college ranking website. Saint Michael's was also named 121st in Best Liberal Arts College.
---
Saint Michael's College ranked No. 11 among small schools on the Peace Corps 2016 Top Volunteer-Producing Colleges and Universities list. There are 10 Purple Knights currently volunteering worldwide.
---
Travel + Leisure named Burlington, VT as one of America's Best College Towns in the country. With their Knightcard, students ride free on public transportation and can be downtown in a matter of minutes.
---
Ranked #73 of Liberal Arts Colleges nationwide in Forbes America's 2018 Top Colleges nationwide.
---
Saint Michael's was named in MONEY's 2018-19 Best College rankings and was also named one of the Top 50 Transformative Colleges.
---
Called one of the "best and most interesting 322 colleges" by the Fiske Guide to Colleges. "There is something special to St. Mike's which is hard to put into words… Saint Michael's teaches students to go out into the world and work to make it a better place."
---
Saint Michael's is included in the 2018 Kiplinger's Personal Finance ranking of Best College Values in Private Colleges nationwide.
---
St. Mike's named top 'Hidden Gem' institution in the state of Vermont by college matching platform, College Raptor Inc.
---
St. Mike's Purple Knight athletes have an impressive 97% academic success rate, tied for No. 2 in the nation, out of 313 institutions, in Division II athletics. We are the No. 2 school in the Northeast region of the country, and we offer more varsity sports than any of the institutions ranked above us.
---
Saint Michael's College is recognized as a top-tier institution with leading opportunities for military service members and their families.
---
Saint Michael's is accredited by the New England Association of Schools and Colleges; our Education Department is accredited by ROPA.
---