Class of '72 gift to new global center models strong stewardship
Embracing leadership role, Brian Lacey joins with classmates and Center for Global Engagement Director Ayres to invigorate College's Strategic Plan
The Saint Michael's College Class of 1972 delivered a master class in effective and meaningful fund-raising this year to honor their recent 50-year reunion, meeting their ambitious goal of a $1 million gift.
Class member Brian Lacey '72, a highly successful entertainment executive and long a champion of the humanities and international scholarship at Saint Michael's as a donor, trustee and volunteer, led the push for his class to support the new Center for Global Engagement.
"From the outset, a few of our classmates on the committee discussed ways our class could significantly raise the bar for both the level of class participation as well as the total financial commitment to the College for our 50th reunion," Lacey said. "We felt it was important to accomplish these goals to demonstrate both the appreciation for our Saint Michael's experience as well as establishing new benchmarks for future 50th reunion class gifts."
Lacey believes a liberal arts education has a much longer trajectory than mere preparation for a career. "The class of 1972 gift underscores our collective faith and commitment that this special Saint Michael's College experience is transformative and more importantly, will be available for worthy students for future generations," he said.
Rather than proposing support toward a broad or general initiative, class leaders elected to target their efforts at the Center for Global Engagement as one of the Strategic Plan's key elements. "The Center enhances the core academic liberal arts tradition and social mission of Saint Michael's College," Lacey said.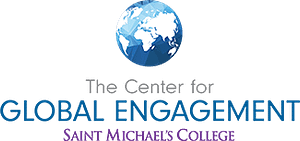 "We were very clear-eyed about our ambitious efforts," he said. "While we realized that no class had ever exceeded $1 million for the 50th reunion gift and a 50 percent participation target was challenging, we also realized that the convergence of outside influences and forces all provided us with the incentive to make this call to action urgent among our classmates."
Among those forces, he said, were the disruptive impact of COVID on higher education and the shifting demographic pressures of the Northeast where historically the College recruits most of its students. Also in play, Lacey said, have been the rising costs of college education across the U.S. vis-à-vis increased student debt, and "the critical –and in my view often misguided — assessment of the liberal arts."
"These all provided us with the incentive to make this call to action urgent among our classmates," he said. Lacey proposed support for the Center for Global Engagement, offered a matching gift challenge — first for $250,000 and when classmates rallied to meet that initial goal, another $100,000 — bringing the total raised from the Class of 1972 to $700,000 over a five-year period in order to invigorate the new Center start-up.
Class leaders said the gift developed in close cooperation with the Center's Director Jeffrey Ayres, faculty member in the political science/international relations department and a former Dean of the College who met with the reunion committee on several occasions to outline Center goals and objectives.
The class gift leaders targeted three areas toward which to direct their financial support within the Center for Global Engagement, based on their meetings with Ayres: scholarships and fellowships for incoming and current students, internships for current students, and institutional partnerships for research and programmatic support.
Visible programs the gift will sustain, Ayres said, include Freeman Foundation international internship program that recently placed 14 Saint Michael's students in internships in Seoul, South Korea for eight weeks this summer, and future academic study trips, similar to the two short-term faculty-led study trips undertaken this summer to the United Kingdom and Japan. Also, the gift will help to fund the Center's new internationalization grant, which this past year supported student experiences and campus programs, such as participating in the McGill Model UN and hosting speakers on campus, covering issues from global public health to Quebec filmmaking.
Lacey said he believed it would be important for those who are making contributions toward the future of the College "to have some granular detail as to where their funds will be invested."  He convinced classmates of his personal view that the vision for the Center for Global Engagement "underscores how a small liberal arts college can extend and expand its academic and professional footprint well beyond its geographic location in Vermont."
"So many of the challenges that students will confront in their personal and professional futures are global in scope and nature," he said, citing the COVID 19 pandemic as a dramatic example. "Issues such as energy sources, climate change, immigration, food production and distribution, health care, natural resource and water management, artificial intelligence and so many others are global, and as such, these will need to be addressed in a cooperative global manner."
"The Center for Global Engagement will provide valuable opportunities to strengthen the academic profile and performance of the College and help to ensure richer student experience by the inclusion of international students and educational experiences," he said. "It also greatly improves the post college professional opportunities by virtue of the ambitious internship program."
As the Class of 1972 neared the $1 million goal, Lacey worked with Krystyna Davenport Brown, Vice President for Institutional Advancement, and Jeffrey Trumbower, Vice President for Academic Affairs, in extending through 2029 his financial support for the Henry G. Fairbanks Visiting Scholar in the Humanities faculty position.
"This commitment pushed us well past our $1 million goal, and in my viewpoint, both the Center for Global Engagement and the Fairbanks Visiting Scholar initiatives greatly contribute to the value proposition that Saint Michael's College is among the upper tier liberal arts colleges in the United States," he said.
He said all of the Class's reunion committee members, especially those on the fundraising committee led by Bill Driscoll '72, worked diligently to contact classmates with phone calls and emails to encourage them to attend the reunion and to support the College in whatever way they felt comfortable and appropriate.
"In the end, it strikes me that college fundraising draws upon an emotional connection among the alumni," he said. "Somewhere, somehow this effort requires a strong emotional bond or belief in the institution among its graduates. I believe that the generous financial support offered by the class of 1972 was in recognition of the value of academic liberal arts tradition and a deep appreciation for the dedicated teaching faculty at the College."
Bill Driscoll '72, said from his perspective, "when fundraising, it is a lot easier to meet a challenge when a matching gift is placed in play, so Brian's offer to match all funds pledged to the Center was the key to our class gift goal of $1 million." He feels that Center presented "a great platform to raise funds for as it was easy to sell, and everyone I spoke to about it was very supportive."
Ayres said between the Class of 1972 gift and the $400,000 congressional designated spending request championed  by the Office of Sen Patrick Leahy '61 along with continued support by the Freeman Foundation, the Center has "a strong financial foundation to move forward in 2022-23 expanding various types of support for student global engagement and continuing the Center's commitment to supporting comprehensive internationalization initiatives at the College"