International Education Week brings global focus to campus events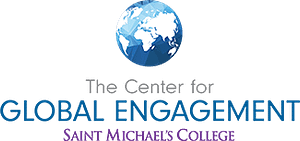 International Education Week November 14-18, a joint initiative of the U.S. Department of State and the U.S. Department of Education, is "an opportunity to celebrate the benefits of international education and exchange worldwide," the sponsors say. Saint Michael's College and its new Center for Global Engagement were all-in this past week with a full slate of excellent, well-attended events.
Responding to a global refugee crisis
Monday evening, Sonali Samarasinghe gave a talk in the Farrell Room on the third floor of St. Edmund's Hall titled, "The Role of the Global Compact on Migration in a World of Dislocation." Samarasinghe is a journalist, lawyer, diplomat, and human rights activist who represented Sri Lanka in the United Nations for many years and now works locally as the Coordinator of Interpretation and Translation Services with the US Committee for Refugees & Immigrants office in Vermont.
Introducing Samarasinghe was Jeffrey Ayres, chair of the Political Science and International Relations Departments as well as director of the Center for Global Engagement. He explained about International Education Week being not only a Saint Michael's initiative, but a wider government-initiated effort to celebrate international exchange.
Samarasinghe began by saying that 2016 was a difficult year for many reasons: Nationalism was on the rise and multilateralism was quickly devalued. Given that atmosphere, the fact that the Global Compact for Migration came together in the UN was a point of pride for Samarasinghe.
Her talk centered around the Global Compact for Migration, the first agreement from the UN to center around international migration in all forms (refugees, asylum seekers, displaced persons, and migrants). It is a non-binding initiative that respects both migrants and host countries in the throes of different migration scenarios. The U.S backed out of the compact in 2016, but today the compact has its full support.
Ayres said he appreciated a good turnout and "thoughtful, informed and timely presentation," not only for Monday's program with Samarasinghe, but also for later events for the week. He said Samarasinghe explored "the critical topic – the global phenomenon of millions people having been displaced as refugees today," and how the UN Global Compact has tried to respond to that." — this event report by Kaylee Sayers '23
Veteran CNN journalist: Be a Globalist
Students gathered in the Farrell Room on Tuesday night to hear Cynde Stand's presentation titled, "I Rode a Rickshaw to the Revolution: What I Have Learned from a Life on the Road." A former war zone cameraperson for CNN and a current adjunct journalism professor at Saint Michael's, Strand emphasized the importance of being a globalist, "putting tools in your tool belt," and never fearing calculated risks.
To open her presentation, Strand first showed a slide of all the countries she had visited before she was hired at CNN at 20 years old, a list consisting of less than a handful of countries. She then shifted to the list of countries she visited throughout her long career at CNN, which to the surprise of the audience, spanned three entire slides.
Through her extensive travel with CNN, Strand said, she learned how to be a globalist, a skill that has served her to a great degree both professionally and personally, and she advised students to do the same. Through being a globalist, Strand said we learn both empathy and understanding which allows us to become not only kinder citizens, but also the ability to form our own well-informed opinions.
To emphasize her point, Strand gave a hypothetical example of the "green-eyed people." She asked students to imagine that they studied abroad in the "land of the green-eyed people," but after their time there, the people began to be persecuted for certain undesirable behaviors. Given the student's time abroad with the people, however, Strand said they were able to know from their first-hand experience that the accusations were untrue, and as a result, can use their globalist skills to advocate for and to help the "green-eyed people" to escape persecution.
Moving forward in the presentation, Strand told the story of how she became a cameraperson for CNN — one of the questions she is asked most frequently, she said. In her young life, Strand said she "had a horrible spelling problem," and that despite her love of reading and writing, she decided to study chemical engineering in college because with numbers, she avoided the issue of spelling.
Three years into her degree, however, she "realized I was on the wrong bus," Strand said with a laugh, and changed her degree to journalism. While to many it seemed like her previous three years of education had been a waste due to the disparity between journalism and chemical engineering, Strand said that she thought the opposite. "Everything you learn is not a waste, everything goes into your tool belt," she said, motioning to the invisible tool belt of professional skills around her waist.
This ability to make life-changing decisions, no matter how daunting, served Strand well in her professional career as a long-time cameraperson. From quitting her initial position at CNN and moving to a war zone in Beirut, to moving back to the United States to learn digital editing and Chinese, to moving to China and getting re-hired by CNN as a cameraperson, to becoming an executive within CNN after the birth of her son, Strand was never afraid to take what she calls "calculated risks," and attributes much of her success to them.
As long as the risk is calculated, "Talk yourself into things, not out of things," Strand advised the audience. While making life-changing decisions to move across the globe or take a new position may seem daunting, as long as the plan is well-thought-out, Strand believes students should take the opportunity.
In closing, Strand said one of the most difficult lessons she found through her career was unlearning her "strong belief that truth will stand above all else." As a journalist, she was trained to give fair time to all sides of the story on which she was reporting, but struggled when she knew that one side was spreading misinformation. In a metaphor she posed the question, "My job as a journalist is to go out and see if it's raining, so should I still give time to those saying it's not raining, even though I saw myself that it is raining?"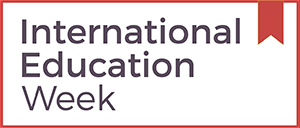 Leaving the answer to that question up to the audience, as her final piece of advice, Strand concluded, "Nothing beats going out and seeing for yourself." – this event report by Elizabeth Syverson '23
A high-achieving alumna diplomat
Another featured and well-received guest on Wednesday afternoon of International Education Week was Michelle Kayser '08, originally from Essex Junction, VT. Kayser, a foreign service officer with the Department of State and newly appointed Diplomat in Residence for New England, spoke midday in Jeanmarie 375.
She reflected on her career trajectory from Saint Michael's to Princeton University to the Foreign Service in the State Department, and provided a variety of information on fellowships, internships and job opportunities with State for students.
Ayres, who called Kayser "an incredible person," said she won the highly prestigious Pickering Fellowship while at St. Mike's student, allowing her to have paid graduate school on scholarship at Princeton University. That launched a most successful career in the Foreign Service. "She sailed through the Foreign Service test and evaluation and was placed in the Central African Republic as her fist posting," said Ayres. "Then her postings were in Argentina and most recently Switzerland, and now she is diplomat in residence for New England covering all the New England states – a two to three-year posting." That job chiefly involve outreach and education and recruitment for the Foreign and Civil Service before she potentially heads abroad.
Ayres said he and Ingrid Peterson of the Career Education Office plan to lead a "Global Career Trip" for students to the nation's capital later this year that will include a "visit with Kayser at the State Department. They also will meet with people involved in nonprofits, government and international business. "What a resource she is for the College and such a giving person," Ayres said of Kayser.
Global Issues Panel
Later Wednesday in the McCarthy Recital Hall, a good-sized gathering of students and faculty had a lively and informative conversation about prominent global issues with a panel of three faculty. The very timely topic of the panel was "World Power and Political Climate." The three panelists were Saint Michael's Professors Michael Bosia (political science), Timothy Blake (history), and Shahrzad Ghourchian (economics). Co-sponsors of the event were the Center for Global Engagement and the Honors Program. Ayres said themes for the panelists and questioners included present trends of populism, anti-immigration, xenophobia, creeping authoritarianism and economic instability with food insecurity – which "parallels what we saw in the period between World Wars I and I," Ayres said.
Another focus for the panel and the audience was the ongoing rebellion by young people in Iran and its implications for the future. Also, several panelists and questioners touched on the fragile state of democracy today given a "reverse wave of democratization worldwide," as Ayres put it.
Lastly, on late Thursday afternoon, a panel co-sponsored by MOVE and Migrant Justice was to explore issues of migrant justice. "I think it's been really successful," Ayres said of the International Education Week as observed at Saint Michael's. –– Mark Tarnacki