Catherine Vu Morrissey '15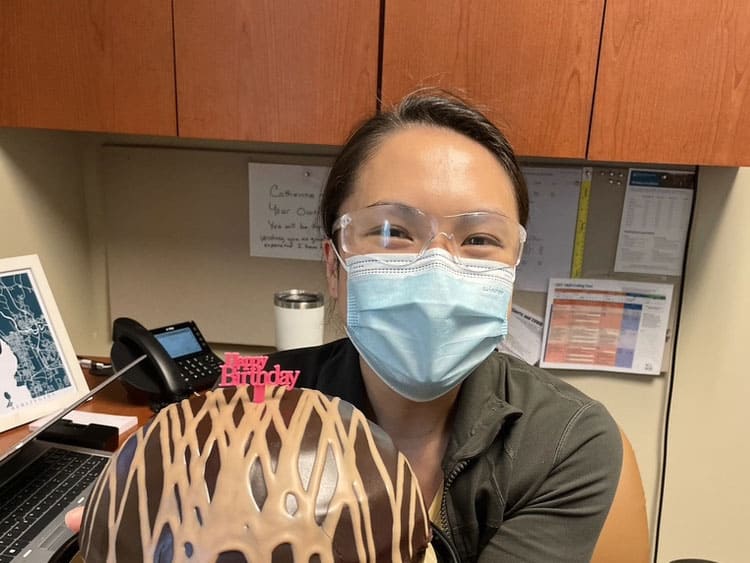 What was your major at St. Mike's and when did you graduate? I graduated in 2015 with a major in Biology and minors in Chemistry and Psychology.
Did you take part in any clubs or activities at St. Mike's that were important to you or shaped your experience there? I was heavily involved in the Chemistry and Biology departments. I worked as a lab and research assistant for Biology Professor Declan McCabe, as a Chemistry teaching assistant and as a peer tutor for various bio and chem courses. I was also involved in Campus Ministry as a Eucharistic Minister and LEAP team member. I loved each of these unique roles – particularly as Professor McCabe's lab assistant as a first year and through graduation, as my work in that position led to my first research publication, a major stepping stone toward my research and eventual clinical career today.
What is your current profession and why did you choose it? I am currently a Pediatric Nurse Practitioner, working in a pediatric private practice in Massachusetts. After graduating from St. Mike's, I worked as a Clinical Research Coordinator at Boston Children's Hospital. Like many research positions, much of my time was spent preparing for data collection, as well as data processing and analysis. But my favorite days were when I worked with the patients/research participants directly. I knew clinical medicine and working with families every day was where my passions lied. I grew up in a family and in school communities that taught and showed me the importance of helping one another. How lucky I am that I get to lend a helping hand every day doing what I love as a career. In pediatrics, I'm fortunate to watch kids grow from newborns through adolescents and into adulthood, helping them create a healthy foundation as they mature into their adult years.
What activities, hobbies, volunteer work or passion project means the most to you? Does it give you a sense of purpose or help others find theirs? I volunteer with my local parish as a member of the Parish Pastoral Council and Outreach Committee. On the Outreach Committee especially, I'm able to connect with our parishioners and organize events and activities to engage in community outreach such as volunteering at homeless shelters, collecting items for local charities, or more recently writing cards to parishioners who lost a loved one during the pandemic. During my time in high school and certainly at St. Mike's, there was a surplus of opportunities to engage in service. Following graduation, the opportunities were just not as obvious, particularly as a young adult and with other young adults. I co-created this Outreach Committee with this goal in mind, though it has bloomed into much more today. While I was completing my master's program during its startup, it felt so refreshing to step back and to be grounded and bonded through these simple acts of kindness. The events are multi-faceted: I have the opportunity to connect with our parish community and our communities connect with one another while serving our neighbors in need.
Do you feel that the liberal arts education you received at St. Mike's helped your abilities to communicate effectively or problem solve? How has a liberal arts education helped or hindered you on your career path or finding purpose in your life? Absolutely – I did not see myself in medicine when I walked onto campus as a first year. My father was a physician in family practice, and I remember so many times when he would carry his work home with him, physically and mentally. My parents also did not want me living that lifestyle – done deal, that makes the three of us! Having had the opportunity to explore so many and such variable career paths on my own accord – clinical research, social work, education – that intersected my curiosity of the human body and helping others has made me more certain that I am right where I'm meant to be as a nurse practitioner.
Do you recall when you first realized what your purpose or passion in life might be? There was not one event that I can pinpoint, but rather a culmination of small events and feelings that led to my "aha" moment. Throughout my time at an all-girls Catholic high school through St. Mike's and my time after, I was surrounded by such strong communities, a sense of belonging, and opportunities to give back. Whether in the chemistry lab, at LEAP retreats, or in clinic, there was a common spark of feeling invested in my actions and doing good to those around me.
How did St. Mike's nurture or inspire your sense of purpose? What has this sense meant to you and others around you? How has it shifted throughout your life and career so far? St. Mike's fosters curiosity. My liberal arts education encouraged me to step outside my comfort zone in the sciences, and carry what I learned from my semester abroad as well as my sociology and history courses back into my core classes. This foundation – the intrinsic blend of being comfortable with the known and unknown – has allowed me to dabble and change course in these early years of adulthood (or, "early" at this point – yikes!). Having the courage to be truly uncomfortable because we're not fortunetellers and we can't predict if that was a good life decision until it's well-lived is why I feel so certain that my career is the right match for me at this time in my life and how my other activities, hobbies, and volunteerism complement my "why."
During the peak of the pandemic (and, still in a sense today), time felt so precious, and I actively chose and am choosing to engage in opportunities that very purposefully foster my wellbeing and relationships. As life carries its own twists and turns and as my professional and personal priorities become more defined, saying no to things/events/people allows me to pour more of myself into things I most value.
Which of your accomplishments have made you most proud? Being a present friend – to neighbors, to old classmates, to my patients and families, to coworkers, to my husband, sisters, and parents. We actively nurture and feed into the relationships that we care most about. Nothing makes me prouder than my friends knowing that they can count on me to listen, talk, cry, laugh with as we venture through life together.
What has it meant to you to have a sense of purpose? What is the most important lesson you have learned? Finding and living my sense of purpose makes me excited to wake up and start my day. Yes, absolutely we all have our tough days, and maybe some days are tougher than others and make you question the what ifs of life. But at the end of the day, believing that I have found my "why" feels like a breath of fresh air, time and time again. The road of medicine and science can be challenging and there will certainly be days not filled with sunshine and rainbows, but the gratification of doing what I'm meant to do means it always feels worthwhile.
One of the most important lessons I've learned is to cast a wide net of supporters. Surround yourself with people who will support your craziest, most illogical professional and personal goals. Ask them questions, query their criticism, share a meal, send "just because" greeting cards – knowing when to lean on your people is a sign of strength and growth.
What part of the 'Forward with Purpose' strategic plan stands out to you as the best new ideas for the St. Mike's community, going forward? What in the plan do you find most inspiring? "Provide each student with an integrated advisory support system throughout their Saint Michael's experience and beyond."
Especially during college and the 'young adulthood' stage of life, having a committee of advisors, professors, mentors, and upperclassmen who will support you is integral in development, personally and academically. As a student's interests evolve throughout their time at St. Mike's, so may their committee. Surely these connections will carry beyond their college years, as many of mine remain close mentors and friends to this day.
Is there anything you'd like to add about your experience at St. Mike's and what it means for your life now? You can't travel anywhere without knowing someone who has a connection to St. Mike's – home is where the heart is! You never know where your St. Mike's connections will take you, finding your partner for life is a bonus.