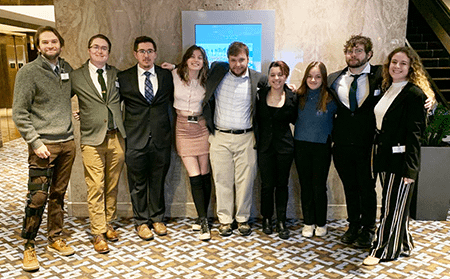 February 3, 2023
A nine-member delegation from Saint Michael's College held their own against students from some of the most prestigious colleges and universities around the world the weekend of January 26-29 as […]
Learn more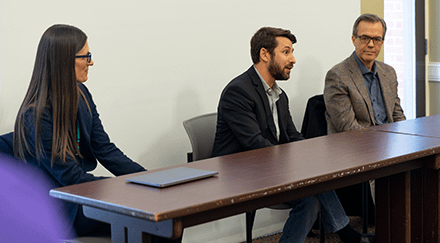 February 3, 2023
Saint Michael's College's brand-new Media Creation Studio is up and running, providing the campus community – and potentially, organizations beyond – with new opportunities for learning and communicating using professional-level, […]
Learn more
February 7, 2023
Erickson Richard will present "Markings" from February 7 through February 15, 2023 at the McCarthy Art Gallery. A Gallery Reception will be held on Thursday, February 9, from 6 to 7 p.m.
March 7, 2023
On March 7 in the Alliot Lobby from 3:00 to 5:15, join us for the Environmental Career Fair in the lobby of the Alliot Student Center, where students can network by talking to businesses and alumni.
Passionate Curiosity, Intellectual Opportunity
At Saint Michael's College, we will challenge you to explore your passions and expand your knowledge. With over 40 majors and minors - plus three graduate programs - you will find the space to question and the mentors to guide you.
Admission
Apply Now!
Whether you're graduating high-school, transferring from another college, have served or are serving in the military, or are pursuing a graduate degree, we're ready to help you through the admission process.
Admitted Student Events
Experience what makes Saint Michael's College so special by visiting campus for an Admitted Student event! You can attend an Admitted Student Day, one of our Admitted Student Mondays or become a Knight for a Day!
Saint Michael's Commitment to an Inclusive Environment
---
Saint Michael's College is committed to equal opportunity. It does not discriminate against students, employees, or applicants for admission or employment, on the basis of race, color, gender, age, national origin, ethnicity, religion, disability, sexual orientation, gender identity or physical characteristics.