Educator workshop promotes advancement of justice, healing in face of racism
Professionals from area schools share experiences and personal insights with about 30 students, most from Saint Michael's Master of Teaching program, as part of fall series
Five veteran local educators shared with Saint Michael's master's education students Wednesday evening in the Dion Family Student Center Roy Room on the timely topic of "Antiracist Pedagogies: Justice and Healing at the Center."
It was part of the Fall Workshop Series through the College's Master of Arts in Teaching program.  The panelists were Jamilah Vogel, diversity, equity, and inclusion coordinator, Colchester School District; Ana O'Neill, speech and language pathologist at Jericho Elementary School; Vasanthi Meyette, 5th/6th grade teacher at Shelburne Community School; Rebecca Haslam '03, assistant professor at Saint Michael's College; and Zachary Key, clinical mental health counselor at University of Vermont.
Organizers of this semester's workshop series are Education Department faculty members Claudine Bedell, Amy Saks Pavese, Becky Wigglesworth and Amy Knight. Said Saks Pavese, "We began the Fall Workshop Series with our first MAT cohort in 2018 as a way to extend our teacher candidates' understanding of timely and relevant topics in the field, with a particular focus on social-emotional learning."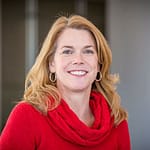 When planning this year's series, the professors said, they wanted to focus on equity and anti-racist pedagogies.  "So many of our candidates come into the MAT program committed to this work and hungering for the opportunity to strengthen their knowledge and skills in promoting equity in their classrooms and schools," said Saks Pavese. "While we have designed the program to integrate these themes across our courses, the workshop series allows us to devote specific time to exploring these topics more deeply with experts in the field."
"Each year we have concluded the workshop series with what we call the 'Finding Your Why' panel as a way to kick off the culminating course in our MAT program, GED 691 Personalized Inquiry: Finding Your Why." She said. "By bringing in educators who are deeply committed to work related to the workshop series theme, our intention is to inspire our MAT students to consider what core beliefs and passions motivate them as future educators. This then becomes the jumping off point for the personalized inquiry ("finding your why") project they will pursue in the course during the spring semester."
Three prior workshops in this fall's series — all presented in person on campus as organizers preferred rather than over Zoom — were:
Racial Trauma and Equity-Centered Classrooms: How to Reframe Our Thinking
Presented by Zachary Key, Licensed Clinical Mental Health Counselor
Thursday, September 16 from 5:15-6:45 p.m. in Pomerleau Alumni Center
Harbor Me Author Talk with Jacqueline Woodson
Monday, October 4 from 4:30-5:30 p.m. at the UVM Davis Center
MAT students met from 6-7:30 pm for breakout sessions
Facilitating Critical Conversations about Race and Racism in Equity-Centered Classrooms
Presented by Zachary Key, LCMHC and Annie O'Shaughnessy, M.Ed.
Tuesday, November 16 from 5:15 p.m. to 7:45 p.m. in the Roy Room of the Dion Center
In the recent Wednesday session, panelists spoke about what inspired their passion/stance toward equity pedagogies and how that belief grounds their day-to-day practice. The panelists shared information and stories from their lives about experiences that sparked their commitment to equity and antiracism work. Many spoke of their own identity formation and their focus on ensuring all students (and families) feel a sense of belonging and value in the classroom. Several panelists suggested how courageous and lonely equity work can be, and described the benefit of finding like-minded colleagues.
One panelist told the story of a childhood experience that impacted her sense of justice and equity; another stressed how important it is to build relationships with the families of students in order to get a truer sense of where they are coming from. Several suggested that, even with all the challenges of COVID in the past year and a half, some good has come to schools through the pandemic by reordering priorities out of necessity — namely, as one panelist sees, it, by allowing teachers to see students in their home environments, among the main people in their lives, during necessary Zoom sessions. Circumstances in the pandemic necessitated that educators "put student needs first before content," which that panelist saw as the right priority.
Said one, "Stories help you understand where students are coming from and get more involved." They also spoke about the notion of "hidden curriculum" that can be embedded in school cultures, and holding all members of the school communities accountable for assuring the comfort and dignity of everybody, regardless of background, all the while understanding the differences among "free speech, hate speech and harm speech."
Organizers asked students to bring questions to the breakout sessions, and the feedback from panelists was positive, with lively and sustained conversations for about 20 minutes before the workshop ended at 6:45 p.m. Nearly all of the approximately 30 attendees were MAT students and faculty, with some students from the master in education program also in attendance.
"I think students appreciated the final half-hour, when they sat in small groups of 5 or 6, each with one panelist," said co-organizer Becky Wigglesworth, instructor in the Education Department and Literacy Program coordinator/placement coordinator.
"They enjoyed the opportunity to engage in more intimate conversations with panelists and ask follow up questions," said Wigglesworth. "What I also appreciated about the panel is that panelists clearly shared a fierce commitment to equity and anti-racism.  Yet our students also experienced the different contexts and approaches to this very important work."