50 Years of Service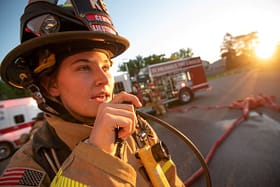 The Saint Michael's Fire and Rescue Squad is an independent volunteer organization of students that has served the campus and surrounding community for over 50 years. In addition to their academic and extracurricular responsibilities, the student volunteers take on the awesome responsibility of serving the public by providing fire protection and emergency medical treatment, not only on campus but also throughout a broad area of Vermont's most populous county. With the dedication and support of Saint Michael's students, alumni, and staff volunteers, their service has continued 24 hours a day, 365 days a year, since 1969.
As one of the first college-affiliated fire departments in New England, Saint Michael's Fire and Rescue is one of the premier college fire and rescue units in the country and has been a model for colleges nationwide.
Saint Michael's Rescue responds to more than 2,400 calls annually involving respiratory and cardiac emergencies, motor vehicle accidents and more. As Nationally and Vermont-certified Emergency Medical Technicians, students provide the same responsible and professional care that you would expect from any ambulance service anywhere in the country.
The Fire Unit responds to an average of 600 emergency calls per year, including structure fires, car fires, car accidents, fire alarms and carbon monoxide alarms.
The Robert E. Sutton Fire and Rescue Station is located on Route 15 across from Saint Michael's south entrance, in the same building as Public Safety. The station houses two pumpers, a squad truck and two ambulances. It contains six apparatus bays as well as day room, sleeping, training, study, storage and office facilities.
Rescuers in Training
Student recruits train with the local emergency crew on a mock accident site.