Power outage no show-stopper for Playhouse 'reopening'
Lighted by a cellphone brigade, actors in "Broadway Direct' fundraiser scarcely miss a beat in taking delighted audience along for unscripted magical matinee ride
Times being what they are, few of 220 audience members in McCarthy Arts Center Theatre Saturday afternoon likely were too surprised when all the lights and power unexpectedly went out halfway through the winter musical review and benefit called Broadway Direct, featuring veteran Saint Michael's Playhouse talent. Yet, with fast-thinking improvisation and classic theater spirit, the show went on – as, after all, it must.
With this edition of what had been an annual recurring event for many years pre-pandemic, the Playhouse ventured to put a show up on its feet for the first time since 2019, gamely pushing through more obstacles than anybody bargained for to pull off what Chuck Tobin, the Playhouse's producing artistic director, called "a triumph." He had billed it as the Playhouse's "reopening."
"It really was a fun, exciting challenge – just in case there weren't already enough of those these days!" Tobin said.  "We were about halfway through the show and the entire building just plunged into darkness – we're still not sure exactly why – and I was standing in the back of the house. I quickly looked in lobby and saw all those lights were out too, so I ran down to front of the stage with only the dim emergency lights that had kicked on to see by."
He said two of the headline performers, Bill Carmichael and Elisa Van Duyne – clearly a pair of  old-school troupers — just kept singing the number they were in the middle of, "The Song That Goes Like This" from Monty Python's Spamalot — even though the sound system and lights had just quit.
"I told them 'you can stop singing now!'" Tobin said. "And I told the audience that we just lost power — I had no idea why — but we were going to figure it out, so please stay seated and we'll let you know what we're going to do."
He then huddled on stage with the cast and John Devlin of the College's Fine Arts faculty, who as usual was running the light boards and sound as with so many McCarthy productions through his long career. "We were all hashing through it, and quickly realized that so many people have cellphones that if we have the people in the front row shine cellphone lights on the performance, that might do it!" Tobin said.
They promptly enlisted those front row people, along with some friends of high school students involved in parts of the show as students of Van Duyne,to become the impromptu cellphone lighting crew, all keeping appropriate COVID distance of 8 feet from the performers but generating ample light once Devlin took down the emergency lights to create the best effect.
An ongoing logistical issue to manage even before the power outage involved pandemic safety protocols, Tobin said. "Everyone in the audience was fully vaccinated or negative test within 72 hours and all masked, and the theater was at 75 percent capacity in keeping with the guidelines," he said, "and the performers were not masked since they all were tested pre-show."
"The audience members were so excited we were doing it and going ahead with the show that we didn't have any pushback," Tobin said, adding while tickets for the show were $20, no refunds became necessary. "Once we got the audience attention again in the dark, we made some references about relearning what challenges are like here since we haven't done it for a while," Tobin said. "I just think the audience found it so exciting and really appreciated the theatrical spirit of 'the show must go on."
Once lighted by the cellphone brigade, the performers — who also included longtime Playhouse favorite Kathryn Markey '84 — gathered in front of the stage, and piano accompaniment resumed by the top-flight Boston-based accompanist Scott Nicholas, also a former Playhouse director One person went up to shine a phone light on his music so he could see it.
Predictably, the talented Broadway belters did not really need microphones to be easily heard by the good-sized, all-masked, all-vaccinated and "all-in" audience, who all stayed and seemed delighted by the rest of the show, Tobin and Devlin said. "Nobody left. They all sat and talked excitedly, and when we told them what we were going to do, it brought huge applause, and when I went up aisle, people were congratulating me," Tobin said.
Audience member John Gravel '69 said after the show that while the first few songs were great when the venue had full power, something magical and more intimate made the improvised portion an even more unforgettable highlight.
"It was sort of a Python-esque continuance," said Gravel in reference to the song being featured when power went out. "I wondered if the same thing would have taken place on a Broadway stage or at the Flynn and would like to think it would – but just the way they did it was perfect. It is an intimate space to begin with, so it benefited from that.  I thought it was in the best nature of show biz – not only did they continue with what they were doing, but they did it in as professional manner as they could and I think everyone was really appreciative."
Devlin, the lighting and sound man, playfully recounted his take on the day's events on a social media post later that evening. "I was unaware of how much I missed being involved with professional theatre until today," he posted. "For the first time in virtually two years, the Saint Michael's Playhouse put a show up on its feet. This was our annual benefit, last seen in 2019. About three songs into the show I realized just how much I'd missed working at this level. Our added entertainment today came 3/4 of the way through the show in the middle of The Song That Goes Like This…the power went out in the building. Something about Monty Python in a Holiday Season benefit must have displeased the theatre gods. The show was finished with piano, emergency lighting augmented by cell phone flashlights and a capella singing. The show did go on, and the audience loved it.  I am, however, ready for a show to happen without unexpected interruptions!"
Devlin later said that his contributions included "scurrying back and forth from the booth to the stage to get one of my students my cell phone to light up the pianists' score. I also coordinated with Chuck to confirm emergency lighting near the dressing rooms for the actors and suggested he ask the audience to exit by row starting at the back in order to make their departure more orderly."
An Evolving Tradition
Tobin said the Broadway Direct show originated when Carmichael bought a Vergennes Bed and Breakfast many years ago, leaving his New York City Broadway career behind for the most part, though, started working with Vergennes Opera House and would have his friends from Broadway come up for a review that became known as Broadway Direct there. Once Carmichael became a regular at Saint Michael's Playhouse, he invited Tobin to get involved with it, and so for several years running pre-COVID and again this year, the review had one show in Vergennes on Friday, followed by the Saturday show on the St. Mike's campus.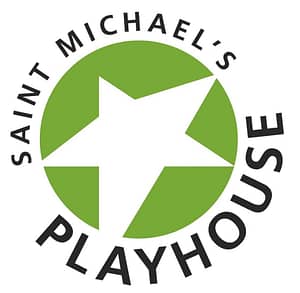 "I billed it as the reopening event for the Playhouse since the last performance we had was in December of 2019, and that was Broadway Direct," Tobin said. Each year's show has a theme, with anywhere from three to six players typically – one year was all Rogers and Hammerstein, one year all holiday tunes that had appeared in Broadway shows, another year, Irving Berlin. "This year we focused on just a few Broadway shows and told a bit of history of the shows woven through the medley of songs," he said. The shows included Les Miserables, and A Little Night Music by Stephen Sondheim (extra timely in light of Sondheim's recent death), along with Spamalot. One highlight of the show was alumna actor Kathryn Markey, in sparkly dress and Santa Hat, reprising her recurring comical character "Debbie Claus," billed as "Santa's second wife" who happens to be from Long Island. "Each year she writes new material for it," Tobin said.
"Everybody loved it, it was just so cool," Tobin said of the improvised portion of Saturday's show, adding that by the time he swung by his office in McCarthy Sunday morning all the lights were back on.
Plans for the upcoming Playhouse season are still up in the air due to COVID, but regulars seem very excited possibly to return after both the 2020 and 2021 season had to be canceled, he said. While this was the first Saint Michael's Playhouse show since 2019, the Theatre Department has put up a few shows within COVID restrictions in the past year, including most recently his semester the Irish-themed Mainstage show "Dancing at Lughnasa."
Of Saturday's show, Tobin said, "It was a feel good story and it felt like a triumph."