Dining Services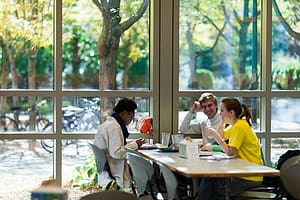 We agree with Virginia Woolf that "one cannot think well, love well, sleep well, if one has not dined well." Serviced by Sodexo, the dining services at Saint Michael's offer fresh foods and healthy meal choices to our students, faculty, and staff so the community is always at its best.
Most students are on our unlimited meal plan – come in as many times per day as you like! Students living in townhouses have full kitchens and are on our Block 40 plan: 40 swipes to use each semester. It's great to head to the Green Mountain Dining Room in Alliot Student Center for a meal with friends, when the fridge is empty, or if you're meeting a professor for lunch.
Adjoining the first year residence halls, Dion Family Student Center features Einstein Bros. Bagels and the Quad Grill. Enjoy great bagel sandwiches, smoothies, coffees, and pastries along with your favorite hot grill sandwiches. For quick grab and go items, stop by Cafe Cheray in the Cheray Science Hall on your way to and from class.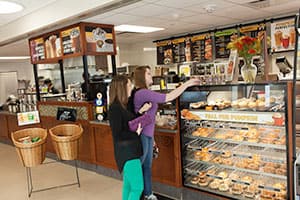 Our students like to share what they love about Dining Services: the made-to-order omelets for weekend brunch, the self-service waffle station, and the delicious vegan and vegetarian options are some favorites. Thanksgiving and Christmas dinners are a special time for the campus to gather over great food to celebrate. Dining Services is proud to contribute an important part to that community spirit. The staff enjoys getting to know the students, and their food preferences, to make the dining experience as personal as possible.
Officially named as a Fair Trade institution, Saint Michael's provides Fair Trade coffee, tea, and bananas in the dining hall and at campus events whenever possible. As supporters of the locavore movement, we offer locally produced foods when we can, showcasing Vermont's homegrown food products.
For questions about your dining experience at Saint Michael's College, contact:
Brian Roper
General Manager
802.654.2201