Natural Area summer project is natural fit for Elizabeth Crotty '24
She and mentor Declan McCabe are gauging public knowledge of invasive species, pollution in Vermont
As one example of the many multidisciplinary student research projects being conducted on campus this summer, Elizabeth Crotty '24 of Nashua, NH, plans to survey Saint Michael's College students and the local community to gauge their knowledge of invasive species and pollution in Vermont.
Crotty, a biology major, has been involved in the Natural Area on campus since the beginning of her first year at Saint Michael's, making it a fitting choice for the site of her research with biology Professor Declan McCabe.  
In order to track student and community knowledge, Crotty and her mentor are currently in the process of creating a digital survey to distribute. They also plan to have a few physical copies of the survey available at the Natural Area surrounding the College.  
"On the survey we're going to have a couple of statements, then people will rank their confidence with each of them, basically saying how true each of them are. That should give us a good visualization of how much each kind of group knows," Crotty said.  
 When the survey is complete, they hope to use the data to install a new trail with informative signage in the Natural Area. From there they will survey students and community members again, only this time to observe if the modifications to the Natural Area have affected their knowledge of invasive species and pollution.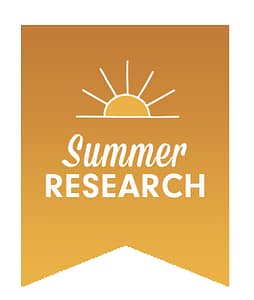 Despite the benefits of creating new trails and educating the community, however, the question of costs can become an issue since some Natural Area stakeholders might be reluctant to spend the time, money, and resources on a project such as Crotty's. For this reason, she said, "Through our research we also want to see how justifiable spending the resources and the money on it is. If we get the data solid, defined, and specific, then it'll help other people if they're considering further similar work in the future," she said. McCabe said that alleviating such concerns to a significant degree this year in order to establish such data going forward is the happy fact that "we landed a $34,000 grant to cover the cost of informational signage."

Although she is uncertain where her future career will take her, Crotty believes that her experience with summer research at Saint Michael's will help to broaden her options. "Even on the base level, it's giving me a lot more experience with things that I haven't really touched before," she said.