St Mike's wins in business 'marathon'
St. Mike's team wins $800 prize at business 'marathon'
A team composed of Saint Michael's College students, accompanied by Professors Robert Letovsky and Karen Popovich of the Department of Business Administration & Accounting, on March 1, 2019, competed in the 7th annual "Free Enterprise Marathon" (FEM) held at the State University of New York in Plattsburgh, taking home an $800 fourth place prize.
This year's event, again sponsored by the Charles Koch Foundation, boasted its largest field ever with 13 colleges and universities from New York, Vermont and New Hampshire sending student teams. Cash prizes were awarded for the best individual short speeches on an assigned topic related to entrepreneurship, and for best ideas in the "Team Creativity and Innovation Challenge."
Senior Sam Vaal was the Saint Michael's representative in the "Free Enterprise Speak Off," delivering a 4-minute speech on "What it takes to be a successful entrepreneur."  He stepped in at the last minute for Marie Shepherd who had taken ill.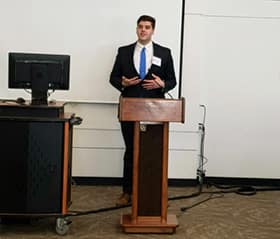 Vaal's speech was passionate and focused on how entrepreneurial traits resulted in personal development and growth; leads to giving back to the community; and increases tolerance to taking risks.
Following the morning's "Speak Off" competition, the team turned its attention to the "Team Creativity and Innovation" round.  This year's challenge to the student teams was to develop new uses and markets for Norsk Titanium, headquartered in Plattsburgh, NY. The company specializes in 3D printing of titanium blocks, and has to date focused on the production of specialized components for the aerospace industry.  After a briefing from senior company executives, the teams were assigned to separate meeting rooms and given three hours to prepare a five-minute presentation on possible new business opportunities for the company. Among the judges were Norsk executives and several other local businesspeople.
The Saint Michael's team's presentation outlined on opportunities for Norsk in the growing electric car sector focusing on casings for potentially flammable lithium ion batteries. The team's presentation drew a number of favorable comments from the Norsk executives and was awarded the 4th place prize of $800. Professor Letovsky praised the team's creative approach to the challenge and the comprehensive game plan the team was able to present in a very limited amount of time. He also acknowledged the hard work the team put in during practice sessions leading up to the event.