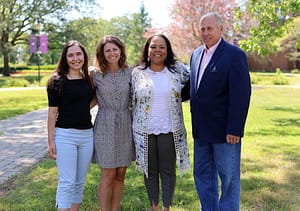 At Saint Michael's College, we prepare students to achieve lives of purpose and fulfillment both during and after college. To help students reach that goal, the College has created the Purposeful Learning Program – a bold initiative to support student success, aid in the transition to college, and engage each student in a four-year purpose-driven experience. 
The Purposeful Learning program:   
Integrate

s

academic and student life

opportunities

for a holistic experience to engage and connect students

to the SMC community and beyond.

Help

s

students

reflect on thei

r many

experiences

–

 

with

valuable support from

a trio of advisors – academic, career, and success.

 

Provide

s

practical

skill

-building

, connections

,

resources

, and time to consider

bigger questions as part

of

a

1-credit course in the first and second semester.

 

Establish

es

a

solid

foundation for motivation,

intentional choices,

clarity of purpose, and a strong sense of

belonging

.
"Research has shown that helping students establish a mindset toward purpose can improve academic outcomes in addition to fostering a greater sense of fulfillment and well-being."
What's the first step?
Over this summer, take a moment to consider what you want out of college. What do you want to learn more about? What activities do you want to get involved in? What matters most to you?
Your success advisor will be reaching out to you within the first few weeks of the semester. The very first day of classes you'll be introduced to our whole team as we begin the Introduction to Purposeful Learning course. Together, we'll begin to explore some of those questions above.
For now, enjoy your summer and take a breath. You've chosen an excellent school and we are thrilled to have you joining our community. Be assured we will help you begin to connect and discover your purpose here.
Interested in learning more? Watch the video below:
Meet the Purposeful Learning Team