In This Together: Edition 6
'Zoomed' play a triumph; ROTC cadet on COVID front lines; (virtual) COTS walk still on - and more news from a time of pandemic
Staff in the College's Marketing & Communications office are continuing to find and post stories from our community during these uncommon times brought on by the COVID-19 pandemic.
We've invited anybody among us to share whatever from their daily lives might inspire and make us feel connected, from the more serious to the whimsical. Please continue to share your news items, however seemingly small. We also welcome broader updates from your offices, departments and homes. Thanks to everyone who shared the following submissions and community snapshots. Keep them coming – email to mtarnacki@smcvt.edu
*
MainStage play via Zoom 'a triumph'; more to come
"A triumph" – that seemed to be the unanimous verdict of Saint Michael's leaders and other community members who had the chance to watch the virtual version of this semester's MainStage production by students, Letters To Sala. A full appreciation was expressed nicely by Jeffrey Trumbower, interim VPAA, who emailed cast and crew after seeing the online multimedia-reading version of the play that the Sala team managed to assemble on short notice when pandemic hit last month. Said Trumbower: "I watched the play last night live, and it was a triumph!  I can only imagine the technical skill it took to pull that off, with the help of IT no doubt, and the entire theatre program.  The actors played off one another on Zoom just as if they were in the same room together, and the electronic format allowed you to creatively include photographs of the people, places, and the actual letters.   I was riveted to the story the entire time.  Brava to the director! Please share these kudos with the entire cast and crew; I've included Katie Ort here because she's currently in my class!  Everyone needs to see this play during its limited run next week. Congratulations, Jeff Trumbower, PhD."
Responded John Devlin of the Fine Arts/Theater faculty, one of the advisers and key technical supporters of the show, "Thanks so much for your continued support and kind words. The students did very well, and we're proud of their work. So glad we were able to bring this story to the community." A couple days later John added this: "I just wanted to throw a couple of data points your way from our presentation of "Letters To Sala" by Arlene Hutton on Friday 4/24/2020" • The show was two hours and eight minutes long including the pre-show and curtain call. • 134 individuals registered for the show • 118 individuals were able to attend at least a portion of the production on Friday night; in some cases we know there were multiple people watching the show live on a single feed • An additional 23 cast and crew worked the performance: 21 students (including four recent alumni) and two faculty • There were at least 17 states represented in the audience; coast to coast and north to south were represented (this was not required information for the registration): CA, CT, IL, KY, LA, MA, MD, ME, NH, NJ, NY, OR, PA, RI, VA, VT and WI." In all, strong testimony to the persevering spirit among Saint Michael's students, determined that "the show must go on." And happily, it's not too late for others to experience the show: the team has been allowed by the licensing play service to make it available to the Saint Michael's community via Canvas on May 6 through 9. Watch for more detail – those with College email can go to their portal page to see more details on how to view via this link.
*
ROTC Cadet Baiungo of SMFR on COVID front lines
Proud this week to read an item on the Facebook page of Army ROTC at University of Vermont (open to Saint Michael's students who want to do ROTC as well) about a Purple Knight and ROTC cadet serving his community in time of need. Here's that post with one of the images that went with it:
"SPOTLIGHT: As many students were sent home for the semester, CDT Anthony Baiungo, St. Michael's College, chose to stay behind and serve his local community at his job instead of returning home to Massachusetts. CDT Baiungo is an Emergency Department Technician and has been on the front lines battling the COVID-19 spread. Like many other … Cadets, CDT Baiungo also serves in the Vermont Army National Guard with Charlie Company (MED), 186th BSB, 86th IBCT (MTN) …. We want to express our dearest gratitude to ALL of our Cadets who work in the medical fields and are serving their local communities in this time of need." Anthony, a senior biology major at Saint Michael's, also is active with Saint Michael's Fire and Rescue along with his Vermont National Guard and Army ROTC cadet duties.
*
Virtual COTS walk has roots, backing from St. Mike's
The annual COTS Walk supporting Burlington's COTS (Committee on Temporary Shelter) has typically had strong support from the Saint Michael's community, notably from the recently retired Human Resources Chief Mike New, a longtime COTS board member, and from the late Fr. Mike Cronogue before his untimely death in 2016 — but many others too. Zsu Kadas, math faculty emeritus, recently encouraged members of Pontigny Society (who support the College's Catholic identity and often have a year-end retreat at the Society of St. Edmund's St. Anne's Shrine), to help in the virtual COTS Walk this Sunday, May 3. Another big COTS Supporter through the years, Mike Samara, longtime Dean of Students at Saint Mike's before he took on still more roles supporting students since his initial retirement, echoed that idea from Zsu in a community email as well, and shared happy personal news: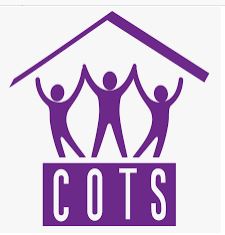 [Thanks to] Zsu for the COTS Walk suggestion. COTS has been an organization near and dear to the Samaras and especially the Annual Walk. [My wife] Lucy Samara, along with members of our church originally got interested in COTS through the opening of a Family Shelter in 1988. At that time, when our kids were 6 and 3 years old, we would bring them to play and visit in the COTS Family Shelter with families that were being housed by COTS.  In 1990, Lucy started the COTS Walk, modeling it after the CROP Hunger Walk that Fr. Mike Cronogue started in the mid-eighties. Lucy had agreed to coordinate the Church World Service Crop Walk when Fr. Mike requested that Lucy take over that effort. Lucy got further involved with COTS and served on their Board for years. As Paul Harvey used to say, "Now you know the rest of the story." On a personal note from Mike: "I'll conclude with a brief update about the aforementioned son and daughter….. My daughter Julie gave birth to her second daughter, on April 11, 2020. Julie and her husband Matt also have 4-year-old Audrey. My son Andrew and his wife Emily (Hubbard) — both SMC graduates, and married by Fr. Mike — are expecting their third child within a week. They also have 5-year-old Franny and 2 year old Juno at home. So there is what I would call anxious joy going on with the Samara family expansion simultaneously with this challenging pandemic time. Peace and best blessings to all, Mike Samara.
*
'Strengths' come to foreground for pop-up course leaders
Even amidst the difficulties of this time, students in the spring Introduction to Clifton Strengths course have demonstrated resilience, gratitude, and an abundance of self-awareness. Heidi St. Peter and Mary Jane Russell planned the pop-up course to begin after Spring break with weekly in-person sessions focused on individual reflections and small-group activities. Like others in this time of pandemic, they needed to restructure their Canvas course to fully complement the weekly class meetings, now restructured for Zoom.  "We were able to use Zoom chat, polling, and breakout rooms for interactive class activities, and Canvas provided the more structured course content and assignments," said Mary Jane. "While we wish we could have all been on campus together, students have been more engaged in the online format than we ever imagined, and the variety of aspects seem to have allowed some students to engage more than they might have in a traditional class format … we have incredible students!"
*
Edmundites note birth date of founder Father Muard
Edmundite Fr. Tom Hoar '73, who leads a ministry on Enders Island off the coast of Connecticut to help youthful alcoholics and addicts recover, was for a long time a campus minister at Saint Michael's years ago. Fr. Tom made note on social media this week of an important milestone date for the founding religious order of Saint Michael's, the Society of Saint Edmund. He posted:
"[Wednesday, April 29] is the 211th anniversary of the birth of the Venerable Jean Baptiste Muard who founded the Society of Saint Edmund in 1843 at the Abbey Pontigny. Each day we pray through the intercession of Father Muard for our recovery community and for the renewal of the Society of St Edmund. To commemorate the anniversary of the birth of our founder, we pray through his intercession we will all be renewed and strengthened during these days of uncertainty and trial. Venerable Jean Baptiste Muard … pray for us! God Bless and Happy "Founders Day!" ~Fr. Thomas F.X. Hoar, SSE, Ph.D., President, St. Edmund's Retreat."