Freeman funds to support 11 in Singapore internships
Previous groups had worked in Hong Kong
Eleven Saint Michael's College students will live, work and learn in Singapore for nearly two months early this coming summer 2020, funded by competitive and prestigious Freeman Foundation scholarships to support international internships in Asia.
This is the third year that students from Saint Michael's will be participating in the so-called Global Citizenship International Internship Program, said Jeffrey Ayres, a faculty member of the Saint Michael's Political Science and International Relations department, campus director of the internship program and the College's former dean.
In announcing this year's Freeman cohort in early January, Ayres said this will be the first year that the St. Mike's students will be working in Singapore rather than in Hong Kong, where students from Saint Michael's worked for the summers of 2018 and 2019.
Ayres collaborates with Robert Letovsky, faculty member of the Department of Business Administration and Accounting, and Peggy Imai, the College's Director of the Office of Study Abroad, on the campus Freeman advisory council that recruits and oversees these scholarship experiences for Saint Michael's students. The number of these scholarships grew from just four the first summer of 2018 to 11 this past summer 2019, and now 11 again for summer 2020.
The three-person scholarship committee in November 2019 interviewed a group of Saint Michael's students who had submitted applications for the Freeman scholarships, Ayres said. "We ultimately selected 11 highly impressive students of diverse backgrounds and majors, all of whom have confirmed acceptance of the scholarships," he said. "These 11 students will now be participating in eight-week internships in Singapore, May 31-July 25, 2020."
Over the course of the upcoming spring semester, these students will be working with the Academic Internship Council (AIC), the College's third-party provider that places students into internships, and participating in campus pre-trip orientation sessions led by Ayres, Imai and Letovsky prior to departure.
This year's cohort
Students selected for Freeman scholarships to study in Singapore for summer 2020 are:
James Russo, junior economics and mathematics double major from Peabody, MA; Thomas Flack, junior business and accounting major and varsity hockey player from East York, Ontario, Canada; Nicole Anderson, junior business and sociology double major and varsity women's basketball player from Kittery Point, ME; Alexander Ireland, business administration and accounting major from Lee, NH; Gabriella LaRiviere, a junior double major in environmental studies and religious studies from Swampscott, MA; Daniel Chang, a junior biology and secondary education dual major from South Burlington, VT; Emmalene Gabriel, a junior psychology major with minors in education and theater from Bennington, VT; Juana Lopez, a sophomore environmental studies and international relations double major from North Andover, MA;  Antonio Finsterer, a sophomore business and international relations double-major with a minor in accounting from Jay, NY; and Lyfranson Altine, a sophomore sociology and anthropology major, minoring in French and political science, born in Haiti but raised in Boston, MA.
A distinguished group
Just 26 select colleges and universities around the U.S. including Saint Michael's College had students funded by the prestigious Freeman Foundation supporting internships in Asia this past summer 2019. "This is becoming a very vibrant and successful program, providing students with the opportunity to engage in experiential learning and to develop skills that students really need in the 21st century beyond just classroom work," said Ayres.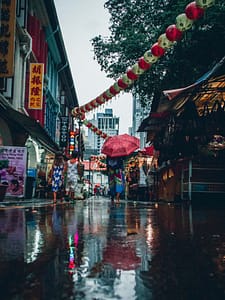 "Having our grant proposal renewed to send students for this third consecutive year is evidence of the confidence the Freeman Foundation has in Saint Michael's and the program we have created here," Ayres said, stressing the value of what educators call "high impact practices," referring to study abroad, service learning, internships or undergraduate research. "These Freeman-supported students have the opportunity to combine a high impact practice with international experience," he said. As it happens, a Vermonter, Juefei Wang, who has a strong working relationship with Ayres, is the National Program Director of the Freeman Foundation.
Saint Michael's is working for the third year in a row with the Academic Internship Council, the custom internship division of the Council on International Educational Exchange (CIEE), to place students in Singapore to be interns at sites that mesh well with students' professional interests and majors.
The Freeman Foundation grant helps support scholarships for U.S. undergraduate students to find internship placements in workplaces in East or Southeast Asia.  One of the major goals of the Foundation is to increase the number of U.S. citizens with professional experience in and an understanding of Asia, its people, and its cultures.  Recipients of the grant are required to share their experiences with their home campuses or communities upon returning in the fall in order to fulfill the program's goal of encouraging other students to participate in internships in Asian countries and increase overall understanding of Asian cultures.