Saint Michael's students grow in New England summer internships
Experiences run the gamut from baseball park and online human resources to real estate, politics and a district attorney's office
Zoe Rogers '23 from Shelton, CT, interned this summer for the Brewster Whitecaps of the Cape Cod Baseball League as a game-day operating intern. A business and psychology double major, Rogers thought this internship would allow her to learn more about the sports industry and experience the day-to-day work that goes into running a baseball team.
"The game-day interns only work home games, but we get there an hour and half before it starts to make sure everything is set up for the fans," Rogers said. "We focus on making the best possible fan experience. The main interactions with them are taking donations and handing out literature at the gates while welcoming them." She said it surprised her how much goes into setting up for a game or event, and how important each of those functions is.
"I learned how a specific team adjusts and functions to successfully operate within a league," Rogers said. "I learned more about the sport of baseball, communication, and problem-solving because each game is always different."
She is looking possibly to step up into minor league baseball, perhaps working with teams such as the Worcester Sox, but she would also be willing to return to the Brewster Whitecaps if the opportunity arose.
Izzy Ruprecht '23: Human Resources work at CVS
Izzy Ruprecht '23 from Kingston, MA, interned remotely for a human resources (HR) position with CVS Pharmacy. A business administration and psychology double major, Ruprecht was interested in the HR internship at CVS after hearing about it from a friend at Saint Michael's. Her work focused on data analysis, survey creation and offering insight and perspectives on changes and initiatives in the team.
Ruprecht said she learned how important time management and organization is through her work at CVS. She also learned applied skills such as Excel, data analysis, communication, and presentation skills. "I also learned to trust myself," she said, "even when something is new to me or seems scary at first."
"I am hoping to work for CVS again this year. The people are so welcoming and supportive, and I align with the CVS culture," Ruprecht said.
Charles Martell '24: Real estate and politics
Charles Martell '24 lives in Essex, Vermont, just a 20-minute bike ride from Saint Michael's campus, and double majors in business administration and accounting. This summer, Martell interned at two different facilities, aiming to gain knowledge in experience in order to cast a wide net in the job field after graduation. However, he was surprised to find that his internships complemented one another in how they made him think about his community.
"I applied to the Vermont Realty Group because I have always had an interest in real estate. I also recognized that the wide array of transferrable skills would support my future aspirations in law," Martell said. "After completing "Engaging with Diverse Identities" (a required Saint Michael's course) I realized that many Vermont communities were marginalized, and still are… I realized that supporting Patricia Preston and her 'Patricia for Vermont' campaign to become lieutenant governor of the state would offer valuable experience, while also helping residents of Vermont gain an experienced and compassionate voice of reason in Montpelier." While Preston's primary bid to become the Democratic lieutenant governor candidate was not successful, Martell said he nevertheless found the experience to be worthwhile.
Martell appreciated how receptive Vermont Realty agents were to his ideas or thoughts about various topics. It was a pleasant surprise for Martell that the people he was working with wanted to grow professionally no matter who was giving suggestion or direction. He said he also noticed how engaged Vermonters are in their local, state, and national politics while working for "Patricia for Vermont," and how much Vermont residents value grounded and qualified representatives.
Lily Callow '24: Honing business skills at New England Tech Air
Lily Callow '24 of Portland, Maine spent her summer interning for New England Tech Air in order to reinforce what she has learned in her business administration major.
Her time as an intern involved learning how to process invoices, check inventory, and receive purchases. "I was surprised at how quickly I could pick up information and tasks that were given to me," Callow said, "I never thought that I would be able to process 150 invoices weekly without any errors." Alongside application skills, Callow was able to hone her interpersonal and professional skills through her everyday work. "I learned how to be better at communicating with vendors and coworkers," she said, "I became very good at writing professional emails and making professional phone calls."
Callow quickly became a big fan of the working environment that New England Tech Air facilitates. "I will be interning at New England Tech Air next year. The work environment was very positive, and I enjoyed the tasks that I was assigned during my time there." Callow also learned that she enjoys and has a knack for accounting during her internship.
Sophia Burns '23: District Attorney's office for criminology major
Sophia Burns '23, a biology and criminology double major from Syracuse, New York, interned at the Onondaga District Attorney's Office this summer. This was her second summer returning for the internship after receiving a scholarship and invitation to intern there in the summer of 2021 during her senior year of high school. "Working towards a criminology major and planning on law school, I found the District Attorney's Office to be a great fit to learn from some of the best attorneys in my county and get experience in the field," said Burns.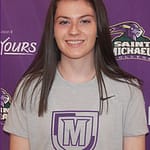 Her work at the District Attorney's Office ranged from "filing, going to court, organizing calendars for the Assistant District Attorneys, delivering subpoenas and listening to jail calls." She learned a lot about the behind-the-scenes work in building cases as well as the criminal justice system in general. "Applying what I have learned from all my classes at Saint Michael's was extremely beneficial in excelling during my internship," she said.
"I can definitely see myself working at [the Onondaga District Attorney's Office] again in the future," Burns said. "The tight-knit workplace environment mirrored that of the community at Saint Michael's College, and I have learned a great deal during my two summers at the DA's office."