President Sterritt announces June 30 retirement
From President Lorraine Sterritt
Dear members of the Saint Michael's community,
It is with mixed emotions that I write to let you know that I have notified the Chair of the Board of Trustees that I will be retiring from my position as president of Saint Michael's College, effective June 30, 2023. This decision comes after much reflection, culminating in the realization that the time is right for me to devote more time to family and friends.
Since beginning my tenure as president in 2018, I have had the distinct privilege of leading and witnessing Saint Michael's celebrate academic and community successes, offering comfort and solace to one another through a historic pandemic and its ongoing challenges, and coming together to envision and prioritize the future of the College in new initiatives.
I am very proud of the work that we have accomplished together. With your collaboration and support, we have created new programs, launched the Center for the Environment and the Center for Global Engagement, devised a Strategic Plan, advanced our efforts in diversity and inclusion and in alumni relations, revitalized fundraising, and so much more.
It is an honor to serve you, the Saint Michael's College community, and I will continue to devote my full attention to my regular duties and responsibilities through June. Later today, you will hear from Board of Trustees Chair Patricia Casey.
Thank you for the partnership, friendship, and support each of you has offered me over the course of the past four and a half years. Saint Michael's College will always occupy a special place in my heart. Bert joins me in wishing each of you individually and the College as a whole the absolute best for the future.
My dedication to our community will continue in its official capacity through June 30th, but my support and love of Saint Michael's will endure long after.
Sincerely yours,
Lorraine Sterritt
From Board of Trustees Chair Patricia Casey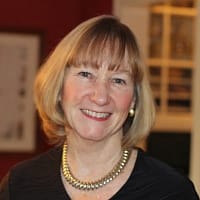 Dear Saint Michael's Community,
Earlier today President Lorraine Sterritt informed you of her decision to retire, effective June 30, 2023. I would like to first thank Dr. Sterritt for her service to Saint Michael's and then to share with you the steps the Board of Trustees will be taking in the coming days and weeks.
Dr. Sterritt's tenure at Saint Michael's has been marked by the introduction of new majors, the initiation of a strategic planning process that resulted in our Forward with Purpose plan, and the creation of the Purposeful Learning Program. Also noteworthy was her conscientious leadership navigating the College through the global pandemic. I want to express deep gratitude on behalf of the Board of Trustees and the entire Saint Michael's community for Dr. Sterritt's service. Please know that, as her tenure comes to a close, there will be many opportunities to celebrate Dr. Sterritt and to wish her well.
The Board of Trustees will conduct a thorough search for the next president of Saint Michael's College. A search firm will be hired and will be guided by a Board-appointed search committee chaired by Trustee Rob Noonan. Our search process over the next several months will determine whether the right choice is to select an interim or permanent leader. In either case, the Board of Trustees is committed to installing new leadership for the College by July 1, 2023. We recognize the important role the community plays in the search for a permanent president, and our process will allow for community engagement.
Please know the Board of Trustees and the Cabinet are working diligently on behalf of the College and look forward in the coming weeks to sharing more information about the process for identifying the College's next leader. As the landscape of higher education continues to evolve, we remain committed to identifying the strategies that best position Saint Michael's for success. We look forward to joining with you — banding together with energy and optimism to face these challenges head-on and to work together with creativity, courage, and hope.
The Board of Trustees recognizes that you will have many questions about the transition to new leadership. We will work closely with the Cabinet to identify opportunities to meet with you, respond to your questions and concerns, and keep you informed of important developments. We have great confidence the Cabinet will continue their careful oversight of daily operations, as well as collaborate on strategic decisions.
On behalf of the Board of Trustees, thank you for your partnership as we come together to support the mission, vision, and values of our beloved College both now and in the future.
Sincerely,
Patricia Casey
Chair, SMC Board of Trustees