Saint Michael's announces new Cybersecurity major, other curriculum changes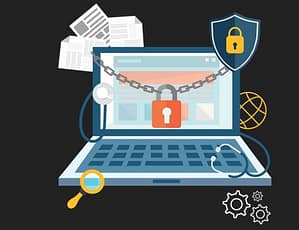 Saint Michael's College is adding its first hybrid-learning undergraduate program to better meet the interests of today's students and the demands of the industries they eventually will enter.
The Saint Michael's Cybersecurity major is part of a new partnership between the College and a consortium of over 135 colleges and universities through Rize Education. Rize assists member colleges in providing online curricula to one another that prepare students for successful careers. The Cybersecurity program will begin to be offered in the fall 2023 semester.
Through this new program, on-campus professors provide an educational foundation for their students while experts from all over the country advance that education in online courses populated by students from consortium schools. The experts provide students with industry insights and help students begin building a professional network before they have graduated. This combination is further supported by the Saint Michael's liberal arts core curriculum, preparing students with the intellectual and critical thinking skills to succeed right out of college and far beyond.
"We are excited to be able to offer a major in such an important and high-demand field," said Saint Michael's Vice President for Academic Affairs Jeffrey Trumbower. "Students will benefit from the best of what Saint Michael's has to offer and the latest knowledge from professionals in a rapidly evolving sector – making graduates of this program well-prepared and marketable. The innovative approach with the consortium will widen our connections to national and international developments in the Cybersecurity field."
Saint Michael's Cybersecurity major has two focus areas:
Cyber threat mitigation. Includes how to identify, neutralize, and stop threats from happening at the personal and corporate levels.
Information technology fundamentals. Effective cybersecurity depends on a solid foundation in information technology, especially as responsibilities in these areas often overlap or are combined into one job.
The major also prepares students for important industry certifications, including the Certified Computer Forensics Examiner, Certified Ethical Hacker, and Certified Information Systems Security Professional certifications. Graduates from this program will ultimately have the skills to think like a hacker – to find weaknesses in existing computer networks and to bolster those systems against any potential threats or attacks.
Saint Michael's College also changed the names of two existing major programs to better reflect student needs and the College's evolving curriculum:
Media Studies, Journalism and Digital Arts is now Digital Media and Communications. The department's new name reflects the much wider scope of skills and career outcomes at which the program has long excelled – effective communication and storytelling using both written and visual media and a deep understanding of the ever-evolving digital media landscape. Journalism remains an important part of the program and continues to be a career option for students. A new professor with expertise in digital marketing will also join the department in the fall.
Philosophy is now Philosophy and Ethics. While all philosophy branches will still be covered, Saint Michael's program will emphasize ethics, which can be applied to any career students may pursue. Each student takes the Ethics in Philosophy course as part of the core curriculum.