Celebrating Student Work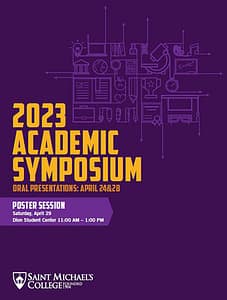 Academic Symposium – an annual celebration of the work of Saint Michael's College students – will be held starting on Monday, April 24th through Friday, April 28th.
Check out the full schedule for the weekend in the Academic Symposium program.
---
Academic Symposium features everything from a history presentation on freedom in America, do a mathematics presentation on counting cards, to discussions of philosophy and ethics and physics reports about Einstein's theory of relativity.
The highlight of the academic year, the Academic Symposium features work from over 300 hundred students showing off final projects, semester-long research and Study Abroad experiences. Other students, faculty, staff and community members buzz around campus to take in all of the work – allowing Saint Michael's students to fully showcase their academic success.
Interested in seeing the work Saint Michael's student's produce? Check out the videos below for some examples of Academic Symposium presentations from 2020:
Political Science – What Happened to Hungary and Poland?
By Liam Cahill
Environmental Science – Social, Economic and Environmental Sustainability of Various Mulch Types.
By Lindsey St. Pierre
English – Creative Writing Awards
Will Marquess Award for Excellence in Prose Writing – Ariel Wish '20
John Engels Award for Excellence in Poetry Writing – Madeline Walker de Hughes '21