Program Enhancement
An Investment in Education
Existing strengths complement innovative ideas
While staying true to its Catholic liberal arts heritage and traditions, Saint Michael's continues to innovate, evolve, and educate. Saint Michael's students are preparing to be leaders in a new and ever-changing world. With additions of new majors – including Data Science, Health Science, Public Health, and Criminology – we prepare our students to meet the demands of these growing career fields while keeping academics grounded in the liberal arts. A gift to program enhancement is an investment in a Saint Michael's education. Your support allows us to reimagine our current programs, expand programming for today's world, and reaffirm our commitment to our core curriculum. It ensures our ability to remain competitive in today's marketplace.
The Heart of What We Do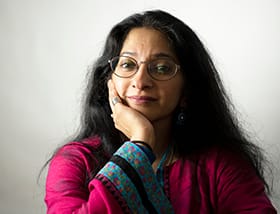 How could one not be inspired by teaching, research, and co-academic learning that inculcates in students a commitment to do well and do good in the world? That is Saint Michael's College! We bring intellectual, applied-knowledge, and problem-solving approaches together across disciplines. The ethos of Saint Michael's is built on a foundation of justice, empathy, and the inner self. Our unequivocal commitment to racial justice spans the depth and breadth of our work at the College.
The Center for the Environment and our farm weave together study and practical work through a wholly integrated hands-on experience. Our newest programs in Criminology, Health Sciences, and Public Health are the essence of Saint Michael's. Programs such as our majors in Art and Design and Data Science are evidence of our ability to adapt and innovate. We also offer graduate certificates in selected programs and undergraduate endorsements in Sports Coaching and Emergency Management.
With myriad courses and learning opportunities across academic and interwoven co-academic programs, Saint Michael's College is at the forefront of integrating the depth of liberal arts with the pragmatism needed to tackle problems of the 21st century.
Tara Natarajan
Professor of Economics, Dean of Faculty
Saint Michael's College
In 2019 the College formally launched the Center for the Environment. The interdisciplinary center is a physical and contemplative space that builds partnerships across existing programs. This allows us to challenge and empower our students to become environmentally conscious citizens as leaders, advocates, scientists, and humanitarians.