Forward with Purpose | Strategic Plan 2022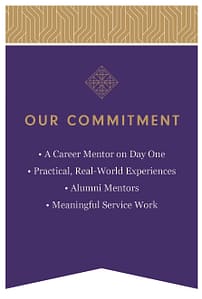 Letter from the President
Since 1904, Saint Michael's College has established itself as a liberal arts institution known for its commitment to the arts and sciences, social impact, and volunteerism imbued by its Edmundite founders. 
Our vision, Do Well and Do Good, encapsulates that spirit, and it is with that thoughtful intention that we have produced Forward with Purpose, a Strategic Plan to strengthen our College community over the short term, while ensuring its long-term success. 
For some time, we have been rather modest about sharing the gifts and the treasures that abound at Saint Michael's, but now it is time for Saint Michael's to shine, and to light the path for the students who come here and for our graduates as they blaze their own trail. With this thoughtful roadmap for the future, we intend to do just that.  
D.E. Lorraine Sterritt
President