Nathaniel Lew
Director of the Honors Program and Professor of Music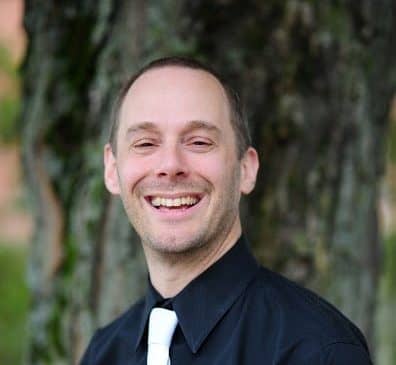 Bio
M.A., Ph.D. University of California, Berkeley
B.A., M.A. Cambridge University
B.A. Yale University
Areas of Expertise:
Twentieth-century British music, particularly opera, and its relationship to institutions and the broader culture. The music of English 20th-century composers Ralph Vaughan Williams and Benjamin Britten. Choral conducting. The music of Richard Stoehr (1874-1967).
Courses I Teach:
Medieval and Renaissance Music
Classical and Romantic Music
American Music Theater
Opera
Advanced Music Theory
Instrumentation and Orchestration
Techniques of Contemporary Composition
Chorale
Humanities: Modern Civilization
Honors Colloquium
My Saint Michael's:
I teach music history, music theory and humanities, and direct the College Chorale. I enjoy the creative freedom to teach a wide variety of subjects in a department where faculty and students are open to experimenting with new topics, materials and methods. In all of my courses on musical repertory I take the entire class to live performances. I love working closely with my students, and I love it when they respectfully disagree with one another in really productive ways. The music department also works hard to facilitate all our students' performance projects, some of which are ambitious and impressive.
Research
My research involves post-war British classical music, concert life, and opera. I edit unpublished works by Ralph Vaughan Williams, and study the choral music of the Austrian composer Richard Stoehr, who taught at St Mike's in the 1940s and 50s. I also direct Vermont's only professional choir, the 12-voice vocal ensemble Counterpoint. We give 15-20 performance every year around Vermont, covering a broad range of repertory including classical works, folksongs, spirituals, and other types of music, with a particular mission to perform works by Vermont-based composers.
Awards & Recognition
Author of Tonic to the Nation: Making English Music in the Festival of Britain (Routledge, 2016).
Conductor and producer for the recording All Mixed Up: Counterpoint Sings the Music of Pete Seeger (2016).
Arranger of O Had I a Golden Thread by Pete Seeger, for a cappella mixed chorus (Hal Leonard Music, 2016).
Editor of three previously unpublished works by the English composer Ralph Vaughan Williams:
• Richard II, incidental music by Ralph Vaughan Williams to the play by William Shakespeare (Promethean Editions, 2014).
• The Mayor of Casterbridge, incidental music by Ralph Vaughan Williams to the radio play by Desmond Hawkins adapted from the novel by Thomas Hardy (Promethean Editions, 2011).
• Scenes Adapted from Bunyan's Pilgrims Progress, a play by Evelyn Ouless with incidental music by Ralph Vaughan Williams (Promethean Editions, 2009).
Benjamin Meaker Visiting Professorship in Music, Institute for Advanced Studies, University of Bristol, England (2012).
Editor of Haitian Noel, by Joseph Augustin (Hal Leonard Music, 2007).
Interview
Favorite Quote:
"Let neither of us assert that he has found truth; let us seek it as if it were unknown to us both. For truth can be sought with zeal and unanimity if by no rash presumption it is believed to have been already found and ascertained." – Augustine of Hippo, Against the Fundamental Epistle of Manichaeus, para. 4
Recent News
Nathaniel G. Lew, Associate Professor of Fine Arts/Music, recently led the Vermont-based 12-voice vocal ensemble Counterpoint in a series of concert of choral arrangements of songs by American folksinger Pete Seeger. The concerts, in Burlington, Stowe, and Weston, were preparation for recording sessions for the ensemble's new CD, All Mixed Up: Counterpoint Sings the Music of Pete Seeger, which will be released in early 2016. (August 2015.)
Nathaniel G. Lew, Associate Professor of Fine Arts/Music, is the editor of the recently published "Ralph Vaughan Williams, Richard II: Incidental Music for a Radio Production." According to the Promethean Editions Composers and Repertoire online database, this 1944 orchestral work by Williams to accompany a radio production of the Shakespeare play is being published for the first time, and "provides insight into a substantial work at the height of his maturity. Although the composer prepared this extensive score – having written approximately 25 minutes of original music scored for an orchestra with a full complement of brass and percussion – the BBC radio production never materialised." The website entry quotes Nathaniel, as editor, about the work. "Documentation of the project is scarce … Queries in the orchestral score in a copyist's hand suggest that instrumental parts were prepared, but neither these parts nor any recording has survived, nor has any other correspondence or documentation of the commission," he explains. (December 2014.)
Nathaniel G. Lew, Associate Professor of Fine Arts/Music and director of the college Chorale and Chamber Singers, delivered a paper, "The Moment We've Been Waiting For: Post-War British Identity in Operas from the Festival of Britain," at the conference "New Elizabethans 1953-2013: Nation, Culture, and Modern Identity," at the Institute for English Studies, University of London, England. (September 2013.)
William Lee Ellis and Nathaniel G. Lew, Assistant Professor and Associate Professor, respectively, of Fine Arts/Music, both attended the joint meeting of the Society for Ethnomusicology, the American Musicological Society, and the Society for Music Theory in New Orleans on Nov 1-4. Bill gave a paper entitled "I Can't Make the Journey by Myself: Blindness as a Transformative Trope in the Music of Reverend Gary Davis" and was courted by Scarecrow Press about book and series editor possibilities. Nathaniel, in his role as Secretary of the North American British Music Studies Association, helped run that smaller society's business meeting and organized and conducted at their reception and musicale. (December 2012.)