Nicole L. Podnecky
Assistant Professor of Biology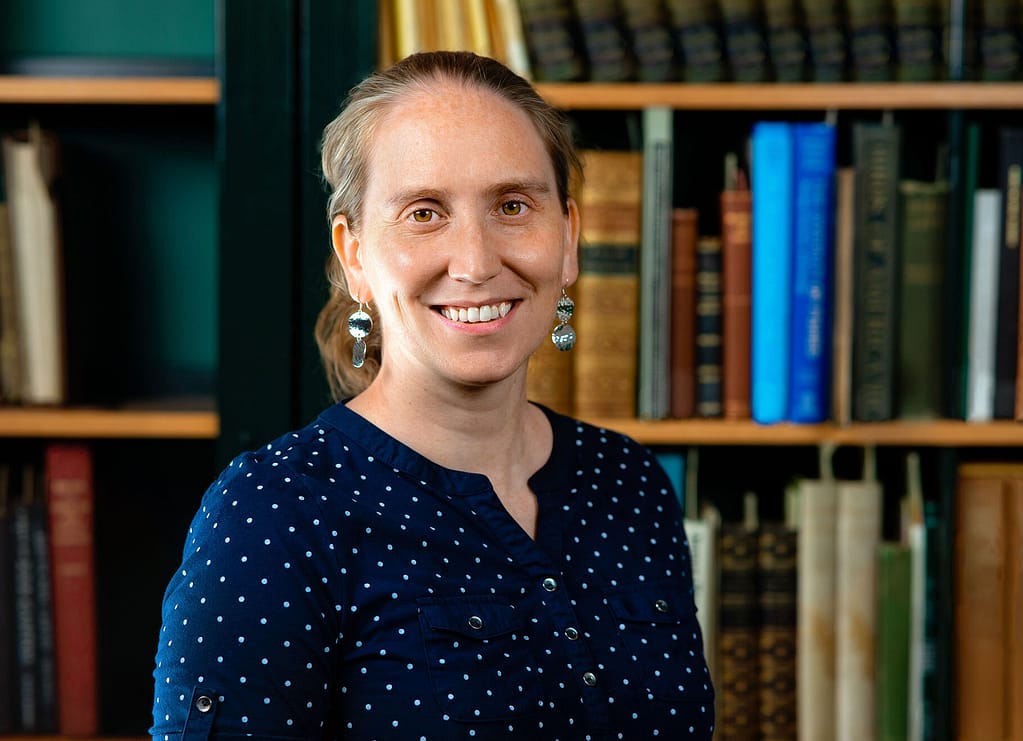 Bio
Postdoctoral Fellow – UiT The Acrtic University of North Norway
Ph.D. Microbiology – Colorado State University
Emerging Infectious Diseases Training Fellow – APHL & CDC
B.S. Microbiology – University of Vermont
Areas of Expertise
Microbiology (Antimicrobial Resistance, Efflux Pumps, Infectious Disease, Clinical Bacteriology, BioSafety)
Molecular Genetics (Molecular Detection & Diagnostics, Molecular Cloning, Whole Genome Sequencing, Transcription Analysis)
Courses I Teach:
General Microbiology & Lab
Infectious Disease
Epidemiology & Lab
Biological Communications
Senior Seminar – Biological Aspects of Public Health Threats
Life Off Campus:
I love being outdoors, whether it's hiking mountaintops, skiing glades, or just exploring the world and taking in the sights.  I am passionate about art (photography & illustration primarily), and I really enjoy playing organized sports like soccer, volleyball, and tennis with friends.
Research
The majority of my work focuses on identifying and characterizing antimicrobial resistance traits in Gram-negative bacteria. I want to better understand the molecular mechanisms that contribute to resistance, how we can detect it, and what we can do to ensure that we have efficacious treatment options in the future.
Publications
Sørum, V, EL Øynes, AS Møller, K Harms, Ø Samuelsen, NL Podnecky, & PJ Johnsen. (2022) Evolutionary Instability of Collateral Susceptibility Networks in Ciprofloxacin-Resistant Clinical Escherichia coli Strains.  mBio 13(4): e0044122.
Podnecky, NL, EGA Fredheim, J Kloos, V Sørum, R Primicerio, AP Roberts, DE Rozen, Ø Samuelsen, & PJ Johnsen. (2018) Conserved collateral susceptibility networks in diverse clinical strains of Escherichia coli. Nat Commun 9(1): 3673.
Rhodes, KA, N Somprasong, NL Podnecky, T Mima, S Chirakul & HP Schweizer. (2018) Molecular determinants of Burkholderia pseudomallei BpeEF-OprC efflux pump expression. Microbiol 164(9): 1156-1167.
Kolton, CB, NL Podnecky, SV Shadomy, JE Gee, and AR Hoffmaster. (2017) Bacillus anthracis gamma phage lysis among soil bacteria: an update on test specificity. BMC Res Notes 10:598.
Podnecky, NL, KA Rhodes, T Mima, HR Drew, S Chirakul, V Wuthiekanun, JM Schupp, DS Sarovich, BJ Currie, P Keim, & HP Schweizer. (2017) Mechanisms of resistance to folate pathway inhibitors in Burkholderia pseudomallei: Deviation from the norm. Mbio 8(5): e1357-13617.
Koening, CL, SG Peterson, NL Podnecky, HP Schweizer, DY Li, & BJ Katz. (2016) Absence of bacteria in the temporal arteries of patients with giant cell arteritis. J Clin Rheumatol 22(1): 43-44.
Podnecky, NL, KA Rhodes, & HP Schweizer. (2015) Efflux pump-mediated drug resistance in Burkholderia. Front Microbiol 6: 305, 1-10.
Silva, EB, A Goodyear, MD Sutherland, NL Podnecky, M Gonzalez-Juarrero, HP Schweizer, & SW Dow. (2013) Correlates of immune protection following cutaneous immunization with an attenuated Burkholderia pseudomallei Infect Immun 81(12): 4626-4634.
Podnecky, NL, V Wuthiekanun, SJ Peacock, & HP Schweizer. (2013) The BpeEF-OprC efflux pump is responsible for widespread trimethoprim resistance in clinical and environmental Burkholderia pseudomallei Antimicrob Agents Chemother 57(9): 4381-4386.
Podnecky, NL, MG Elrod, BR Newton, LA Dauphin, J Shi, S Chawalchitiporn HC Baggett, AR Hoffmaster, & JE Gee. (2013) Comparison of DNA extraction kits for detection of Burkholderia pseudomallei in spiked human whole blood using real-time PCR. PLoS One 8(2): e58032.
Recent News
Nicole L. Podnecky published a paper with colleagues from Norway in the journal mBio.  The paper challenges the predictability and stability of antimicrobial sensitivities, including those due to antimicrobial efflux, over many generations of evolution.  This work demonstrated that not all antimicrobial resistance traits are stable over time, and raised concerns of the application of collateral sensitivity-informed treatment strategies to prevent or revert resistance development in Escherichia coli.
Emilie Webster '23 presented her undergraduate research performed with Nicole L. Podnecky at the 100th Annual Beta Beta Beta Biological Honor Society National Convention at Oklahoma City University.  Emilie Webster's poster presentation entitled "The effect of HAE-RND efflux pump expression on aminoglycoside sensitivity in Escherichia coli" was awarded the 2nd place John C. Johnson prize within Biomedical Science.
Emilie Webster '23 was awarded an Undergraduate Research Grant through the Beta Beta Beta National Biological Honor Society to fund supplies and reagents to continue her microbiology research on aminoglycoside collateral sensitivity in Escherichia coli with Nicole L. Podnecky.
Nicole L. Podnecky was awarded a Startup Fund Award from the Vermont Biomedical Research Network to assist in establishing her research program on antimicrobial resistance in Gram negative bacteria.
Nicole L. Podnecky joined the faculty at Saint Michael's College as an Assistant Professor of Biology in Fall 2020.