Rebecca Eunmi Haslam
Assistant Professor of Education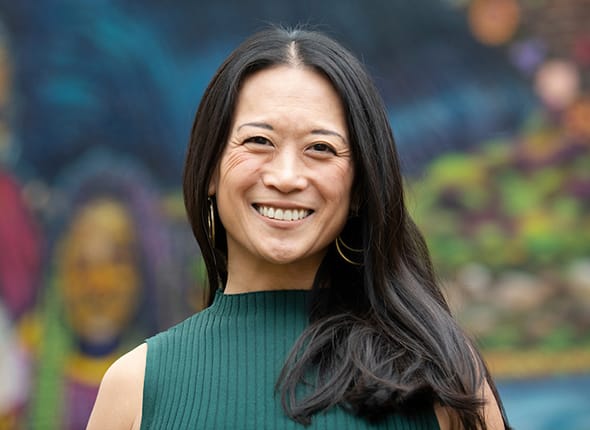 Bio
Ph.D. University of Vermont
M.Ed. Saint Michael's College
B.A. Saint Michael's College
Areas of Expertise:
Elementary Education



Racial Equity & Educational Justice


Curriculum & Universal Design for Equity
Courses I Teach:
ED 239 Antiracism & Collective Liberation

ED 300A/B Teaching Social Studies and the Arts PreK-6

GED 571 Antiracism: Critical Theory & Praxis


GED 577 Inquiry in Equity & Educational Justice
Coordinator, Racial Equity & Educational Justice Graduate Certificate Program
Advisory Committee, Equity Studies Program
Advisory Board, Antiracism Council (ARC)
For more information about Professor Haslam, please visit Seed the Way LLC, Educational Consulting for Justice & Equity.
When day comes we step out of the shade, aflame and unafraid. The new dawn blooms as we free it. For there is always light, if only we're brave enough to see it, If only we're brave enough to be it.
Publications
2022 Haslam, R. E. (2022). Critical Representation: Mattering & Belonging for Students of the Global Majority. Middle Grades Review, 8(3). https://scholarworks.uvm.edu/mgreview/vol8/iss3/2 
Featured in:
Aquino, E., Manchester, H., & Wadhwa, A. (2021). The Little Book of Youth Engagement in Restorative Justice: Intergenerational Partnerships for Just and Equitable Schools. Simon & Schuster.
Baker, C. K., & Bitto, L. E. (2021). Interrogating the Tensions of Becoming Antiracist Mathematics Teacher Educators via Critical Friendship and Rehearsals. Studying Teacher Education, 1-18.
Faircloth, B. S., Gonzalez, L. M., & Ramos, K. (2021). Resisting barriers to belonging: Conceptual Critique and critical applications. Lexington Books. 
Nicholson, J., Kurtz, J., Rivas, L., Henneman, T., Peterson, E., Bryant, S., & Lin, B. (2021). Trauma-Responsive Family Engagement in Early Childhood: Practices for Equity and Resilience.
Awards & Recognition
2020 SMC Senior Class Appreciation Award
2018 Vermont NEA Human and Civil Rights Award
2015 Vermont State Teacher of the Year
Professional Affiliations
Vermont Professionals of Color Network
American Association of University Professors (AAUP)
American Educational Research Association (AERA)

Div G: Social Context of Education
Div K: Teaching and Teacher Education
SIG 144: Critical Educators for Social Justice
SIG 104: School Community, Climate, and Culture

National Network of State Teachers of the Year (NNSTOY) and Vermont State Teachers of the Year (VSTOY) network
Recent News
Rebecca Eunmi Haslam '03, Ph.D., of the Education Department faculty this year developed and launched a new Racial Equity & Educational Justice (REEJ) Graduate Certificate Program at the College to meet a growing need and demand among the state's educators while advancing the College's active commitment to embrace diversity and stand against racism.
(posted February 2023)