Behind scenes at Playhouse, costume pros bring characters to life
New York City based professional Grace Jeon describes her process from historical research to sketches, collaboration, creation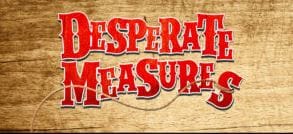 This summer Saint Michael's College has enjoyed the presence of three shows in the newly reopened Playhouse: Into the Breeches, The Mountaintop, and Desperate Measures. From actors, to directors, to crew members, professionals from around the country have convened at the Playhouse to put on shows for one of the premiere theater companies in the state.
Currently in their last show of the season, Desperate Measures opened at the Playhouse on July 27 and will close on August 6 after the 8 p.m. showing. The show takes place in the Wild West where "Johnny Blood" finds his life in danger over a saloon brawl. In desperate need of help, he places his fate in the hands of a lively crew who will ultimately determine if he lives or dies.
Largely responsible for bringing Johnny Blood and his crew visually to life, Grace Jeon, a graduate of the Tisch School of the Arts at New York University, is the head costume designer for Desperate Measures. Jeon's design process began in late May before she arrived at Saint Michael's in July to begin constructing pieces. She said the design process usually varies between designers, but for her personally, it transpires in three main steps.
When starting a new production, Jeon said she always begins with research. Before developing her designs, she searches for moods, aesthetics, colors, and history that stand out in the context of the show. "Predominantly because [Desperate Measures] is set somewhere in the late 1800s in the Wild West, I did a lot of research on cowboys at the time, saloon girls, and just general historical silhouettes," she said.
With the research complete, Jeon then moves to the illustration and rendering phase. In this phase she creates pencil sketches and color swatches to give the director an idea of her vision for each character and to receive feedback. "In that collaborative process we eventually get to the final rendering, which is fully colored, fully rendered, and is essentially what I turn over to my shop," Jeon said.
After the research and planning phases are finalized, production becomes a whirlwind of "pulling, shopping, and building," Jeon said. For Desperate Measures, completed pieces were pulled from the extensive stock at Saint Michael's, in addition to rentals from the TDF Costume Collection, a repository which holds over 80,000 costumes and accessories from both Broadway and Off-Broadway shows.
If pieces are still missing after borrowing and renting, Jeon then must create the remainder of the costumes from scratch. For Desperate Measures, both "Bella Rose's Red and Purple Look" and the nun costumes were built nearly entirely from scratch and took 50 and 25 hours to complete, respectively. While in this phase of the design process, Jeon and her crew typically worked from 9 a.m. to 5 p.m. each day, but during tech week, they consistently spent 12-14 hours per day in the shop.
While in the frenzy of constructing and altering pieces, Jeon also believes strongly in taking the time to work collaboratively with the actors to create costumes that will make them feel comfortable and confident. During fittings she speaks with them about the character, how they feel in the clothes, and provides several options.
"For example, Sheriff Green is wearing a green vest," she said, chuckling at the suitability. "But I provided him with several different options that were varying shades of green and had different textures or different details. I said, 'These are all the options I like, which one speaks the most to you and your character?' And I find that collaborative process to be really important."
With Desperate Measures now nearing closing night, Jeon's main role has become maintaining the show. "If anything happens, if something rips, or they need more stockings, or if a shoe is falling apart, I'm here to pick up those pieces," she said.
"But as you can see from the state of the shop," she said, gesturing toward the plethora of fabric and materials strewn across the table, "we've been quite hard at work. I'm really happy with where it ended up and that we got everything done that I wanted to."
"This is my first time working outside of the city for a full production, so it was really exciting and really nerve wracking. But, ultimately, I loved the chance to work in a space that was both extremely professional and that holds itself up to a standard of creation that you would see in any professional theater."