Collier exhibits new work, readies McCarthy Gallery for fall events
Professor from fine arts faculty has sculptures in Stowe; he and other faculty will share their work on campus in early September
Brian Collier of the Saint Michael's College fine arts/art & graphic design faculty is an active and widely acclaimed interdisciplinary artist who has been exhibiting his own work around Vermont in recent months.
For example, this past August 20 in Stowe, a reception launched an exhibition in which Collier is showing new sculptures (that's his work "Change Markers" below). The venue is "The Current: A Center for Contemporary Art" and the title of the exhibition is "Exposed 2022."
Also recently, for a Shelburne Museum project, Professor Collier produced video work in collaboration with his twin sons, Alex and Max,  exploring the museum from their perspective. "The kids and I were most surprised by finding a hen with chicks wandering around the museum campus," Collier notes on the Shelburne Museum website.
To top his busy summer off, this past week, Collier announced a full lineup of important exhibitions for this coming fall semester that are scheduled for the McCarthy Art Gallery that he directs and curates on campus, affording Saint Michael's students the privilege of working closely with Collier, guest exhibitors and the other working artists of the College's fine arts faculty. The gallery also provides an attractive venue for members of the wider community to experience fine art.
Collier has said that, as an interdisciplinary artist with a background in sculpture, furniture design and fine woodworking, he is committed to teaching his Saint Michael's students "how to develop strong technical skills, be highly experimental and explore the many ways visual art intersects with other disciplines."
Collier's projects and public interventions range across a wide variety of media: photography, drawing, video, sculpture, artist's books, installation and performance. His  work has appeared widely including: Burlington City Arts; Power Plant Gallery at Duke University; Fleming Museum, VT; 60 Wall Gallery, NYC; Neues Museum Weserberg Bremen, in Bremen, Germany; Boulder Museum of Contemporary Art, Boulder, CO; Rowland Contemporary, Chicago, IL; Contemporary Art Center, North Adams, MA; Centro de Desarrollo de las Artes Visuales, Havana, Cuba; CEPA Gallery, Buffalo, NY; and Galería Raúl Martínez, Havana, Cuba. Reviews and articles about Collier's work have appeared in a variety of publications, among them Art in America, The New York Times, Afterimage, Art Papers Magazine, Domus, The Chicago Reader, Orion: Nature/ Culture/ Place, and The Burlington Free Press.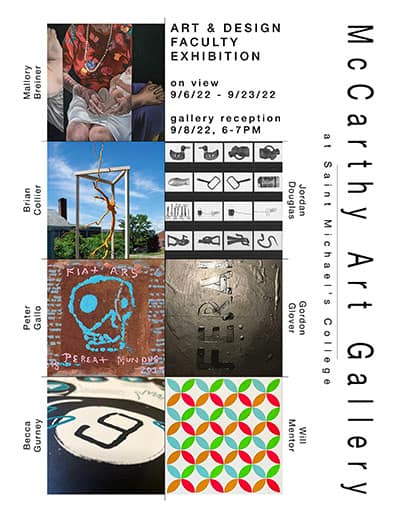 The McCarthy Art Gallery is housed in the McCarthy Art Center on the campus of Saint Michael's College. During the regular school year, the Gallery is directed and curated by Collier in collaboration with students, faculty and staff from the Fine Arts Department and other members of the campus community.
Here are coming exhibitions and receptions in McCarthy Art Gallery for fall 2022:
Art & Design Faculty Exhibition
Featuring work by: Mallory Breiner, Brian Collier, Jordan Douglas, Peter Gallo, Gordon Glover, Becca Gurney, Will Mentor
On view: September 6 through 28
Gallery Reception: September 8, 6 p.m. to 7 p.m.
Michele Brody, "Papers of Place"
New work featuring hand-made paper with materials collected from the Saint Michael's College Natural Area
On view: September 29 through October 28, 2022
Artist Talk: September 29, 5 p.m. to 6 p.m., Cheray 101
Gallery Reception: September. 29, 6 p.m. to 7 p.m., McCarthy Art Gallery
Brody's work as an artist thrives on the interaction with new communities and place-making. Where she explores what it means to establish roots within an unfamiliar environment by being present within a place to affect change. With each new location she conducts a careful investigative method that involves the gathering of regional materials, native plants, local stories, historic references, and architectural imagery. She employs a process of regenerating natural materials into handmade paper as a practice of illuminating the unobserved in day-to-day surroundings and the challenges facing the environment.
Sam Bartlett, "Low Stakes: Plywood Cutouts and Everyday Comix"
On view: November 3 through December 3, 2022
Artist Talk: November 3, 5 p.m. to 6 p.m., Cheray 101
Gallery Reception: November 3, 6 p.m. to 7 p.m., McCarthy Art Gallery
As an artist, Sam specializes in painting and cutting sculptures from salvaged wood. He derives inspiration from the naturally low stakes involved in using free materials. Sam does virtually no planning or sketching for his artwork, preferring to try to harness the energy of a first take. Common themes in his work include: complex physical relationships between people, things on top of other things, things being bitten and eaten, old-time and Irish music community, and mortality. He has been strongly influenced by artists Peter Schumann, Howard Finster, and Gustav Vigeland.