Four are back from study abroad, as 25 head out worldwide
Destinations include Europe, Africa and Central America; two returnees were in Nepal, another was at sea
Peggy Imai, director of Saint Michael's College's Study Abroad Office, recently shared with faculty and staff about students heading out this spring 2022 semester for exciting study-abroad programs, as well as the handful who are freshly returning with new perspectives and insights to enrich classes.
This year's spring study destinations for students include Barcelona, Salamanca and Granada, Spain; Glasgow, Scotland; Grenoble, France; both Cork and Limerick in Ireland; London, England; Stockholm, Sweden; Copenhagen, Denmark; Prague, Czech Republic; Zanzibar, Tanzania; Bocas Del Toro, Panama, and Kimana, Kenya.
In her customary campus-wide email Monday on the first day of classes (January 17 this semester), Imai reminded the Saint Michael's community of the four fall study abroad students who have returned to campus. The number was lower than usual because of the COVID-19 pandemic.
Those students are Gareth Owens, who studied at Oxford University in England through the Arcadia University program; Kyle Pickus and Abby Poisson, who both completed the "Development, Gender, and Social Change in the Himalaya" program through SIT Study Abroad; and Nadia Racz, who completed the SEA Semester's Caribbean Reef Expedition to St. Croix.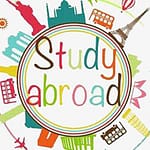 "Please welcome them back when you have a chance," Imai wrote to faculty, "as they are undoubtedly filled with interesting stories to share — and because there are so few of them, let's do what we can to make them feel extra special."
Further, Imai said, "25 intrepid students are planning to be abroad in the spring" with most already in country, though a few students who are heading to Granada, Spain and to Tanzania, Panama and Kenya will be leaving between January 24 and February 1.
"I've heard from several students," Imai said, "and as you can imagine, they are filled with all combinations of excitement, trepidation, determination, and a healthy splash of fear. This is exactly how they should be feeling at this stage of the game."
See returning students from fall semester
See spring study abroad students and destinations