Speaker explores intersection of Indigenous, Christian traditions
Damian Costello says this year's first-year common text 'Braiding Sweetgrass' helped him achieve more clarity about his own experiences and studies
This year's common text for Saint Michael's College first year students, Braiding Sweetgrass by Robin Wall Kimmerer, helped Wednesday's campus guest speaker Damian Costello come to better terms with the intersection of Indigenous and Christian spiritual traditions in his own life experience and studies.
Students gathered mid-afternoon in Cheray 101 to hear Costello's thoughts on Kimmerer's work that bears the full title Braiding Sweetgrass: Indigenous Wisdom, Scientific Knowledge, and the Teachings of Plants, in an event co-sponsored by the Edmundite Center for Faith & Culture and the First-Year Seminar Program.
Costello, who earned his doctorate in theological studies from the University of Dayton, specializes in this intersection of Indigenous spiritual traditions, Catholic theology, and colonial history. He is the author of Black Elk: Colonialism and Lakota Catholicism and is the director of post-graduate studies at the North American Institute for Indigenous Theological Studies (NAIITS): An Indigenous Learning Community, an Indigenous designed and delivered ATS-accredited theological graduate school. Costello is also a co-founder of the Indigenous Catholic Research Fellowship.
Costello told students about the five years he spent living among the Navajo Nation and how it impacted his studies. While living there, Costello said, he began asking questions that pertained to his environment and his studies, and this was the point when he started further exploring whether indigenous wisdom and Christian tradition might work together. Costello said he remembers Kimmerer's book as a vehicle through which he was able to engage that question while more fully considering the environment he was living in.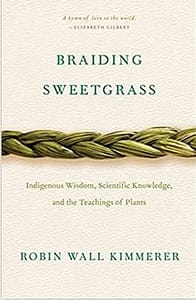 The speaker said he appreciated how Kimmerer talked about non-human and human animal relationships, which he described as a "moral covenant of reciprocity," explaining that human and non-human animals can be good medicine for one another. Costello said that sweetgrass is a teacher of healing and a symbol of kindness and compassion. He also discussed how sweetgrass is dependent on humans for survival because it needs to be transplanted and grows better when it is picked. In her book, Kimmerer asserts that this kind of human and non-human dependency is crucial; she believes that other species are relatives with whom we should form mutually sustaining relationships.
After reading Kimmerer's book, Costello said, he planted sweetgrass and built a relationship with it, and once he had planted and grown it, he said, he came to see the plant in the same way that Kimmerer described in her book. Growing his relationship with sweetgrass and considering his relation to other species around him caused Costello to ask another question: How is indigenous wisdom already a part of Christian tradition?
His primary example was something relatable for most audience members – Christmas trees. He explained that trees have a very strong religious presence in nearly every religion. Examples might be the Bodhi tree in Buddhism, sun dance tree in Indigenous tradition, Christmas tree in Christianity, and others. Costello characterized this matter of trees as religious entities as a hidden indigenous practice that we all practice, observing how many in today's Christian tradition bring a Christmas tree into the house, decorate it, gather around it, and recount familial memories.
We connect more intimately than any other time of year when the tree is present, Costello said. "I don't think the tree is disregardable in that process," he said. "I think it's an important aspect." Costello also discussed the scent of Christmas trees, suggesting that the scent is the tree's prayer that acts on those in its presence; so, from an indigenous perspective, it would make sense that we would gather in its presence, he said.
Costello said that this relationship with Christmas trees is a great place to start when exploring the overlapping of indigenous wisdom and Christian tradition. He urged students to take what Kimmerer has offered her readers and to engage in a sustainable relationship with the tree. "When talking to the tree, you're talking to a living being that gave itself for you," he said. You have to look at your relationships with nature in that way, you have to treat them with respect" – and, for example, once the season is through, stand your Christmas tree outside so it can see the sky again.
Costello closed his lecture describing how to explore indigenous wisdom respectfully. "We don't have to go into indigenous lands or appropriate their cultures or experiences," he said. "We can simply find the ways in which indigenous wisdom hides itself in Christian tradition and we may appreciate it."