Model U.N. Club represents well at McGill Conference
St. Mike's sends delegation of nine with Professor Ayres as advisor for three busy, productive and enriching days in Montreal
A nine-member delegation from Saint Michael's College held their own against students from some of the most prestigious colleges and universities around the world the weekend of January 26-29 as participants in the McGill Model United Nations Conference in Montreal.
"It was a great experience for our students and a really successful and engaging conference for them," said Jeffrey Ayres, who is the Model U.N Club advisor, director of the College's Center for Global Engagement, and a professor of political science and international relations. "The trip was a really great illustration of the kind of global engagement experience that we want to support more often for the Center for Global Engagement."
Ayres said Saint Michael's "was in really good company" at this event, with 75 schools competing from around the world, including several from the Ivy League, prestigious large state universities, and many groups from Canada plus several from Europe.
These included Boston College, Brown, Cornell, Harvard, Dartmouth, Princeton, Johns Hopkins, Duke, Stanford and Northwestern universities, University of Chicago, several campuses of the University of California including Berkeley, the U.S. Naval Academy, University of Michigan and many more. Middlebury College also sent a delegation from Vermont.
As Ayres wrote from Montreal to Saint Michael's President Lorraine Sterritt and Dean of Faculty Gretchen Galbraith over the weekend, "Our students have had a great time and yet also taken it all quite seriously – a wonderful global engagement leadership opportunity."
Rich Student Experiences
Delegation member Joshua Marshall, Model U.N. Club vice president and parliamentarian, said this was the group's first in-person conference as a group since COVID, "so none of our members had been to an in-person collegiate conference."
However, "We attended the online McGill Model U.N. conference last year, so we had some idea of what to expect, but going in person was a very different experience," Marshall said. "Despite our relative inexperience with conferences, I felt our delegates more than held their own, and one of our delegates, Jeremy Little, even won an award in a Spanish-English bilingual committee."
"Moving forward I think the club will be well equipped in the future to do well at conferences like these," Marshall said. "I think many of us as seniors are sad to say this will be our last McGill conference since we are graduating, but we're hopeful that the newer members will be able to continue attending and making a name for Saint Michael's on the collegiate Model UN circuit."
Jeremy Little – the delegate who earned special recognition at McGill for his efforts as mentioned by Marshall, is a senior political science major with economics and Spanish minors, from Georgia VT. He also is president of Pre-law Society, president of UNA-USA, co-president of SLAM, co-vice president of the Honors Society, and has been involved in the St. Mike's Student Government Association (SGA) for all four years.
"I have been a part of Model U.N. for all four years here at St. Mike's, and originally became interested when I followed my roommate of four years, Joshua Marshall to a meeting," Little said. "Between the two of us, Rosemary Marr, and Samuel Mercer, we quickly regrew the club and now have a thriving weekly meeting schedule."
Little said Model U.N. is a club oriented around solving a variety of global issues in a peaceful manner. "One of the most interesting aspects of the club is this idea that you are assigned a country and represent that country's interest in that scenario," he said. "Therefore, you get to learn, for example, how Indonesia might respond to a world AIDS crisis, what policies they would support, and how such a different country can find common ground for creating positive change."
Club members hope to attend a second conference somewhere this spring semester, he said, and perhaps to host a local high school level conference that club members would organize.
"I look forward to potentially chairing this conference alongside other members of the club who attended the McGill Conference," Little said." Looking forward, the club is always looking for new members, and we would encourages students to reach out with any inquiries, or to just show up one day and see what it's like."
He has found it is hard ever to be fully prepared for a conference like McGill, but pre-conference practice and studying helps. "There's always a steep learning curve, but for those who are there to learn, there's no better way to discover the various intricacies of the various issues facing the world today," he said of the conference experience. "The Model U.N. Club on campus prepared me for the rigor and creativity of such a conference, but it's a whole other ballgame when you are in that new committee for the first time!"
"We had a great group and each delegate was strong in their skills while in committee, and did a great job competing against such a variety of universities," Little said. "I saw this trip as a culmination of my last four years participating in MUN, and was happy to be able to win an honorable mention in my Bilingual Committee!"
Grant from Center Covers the Costs
Ayres said that club members applied on their own for internationalization grants through the Center for Global Engagement, under the "student activities" category — the other is "campus programming." The grant paid for registration, travel costs and three nights in the nice Sheraton Hotel in downtown Montreal.
"What most impressed me, they worked hard during the fall beginning to prepare for the conference," Ayres said. "They ran crisis simulations and began to prepare early on and it paid off as our students really held their own and were represented across a couple committees."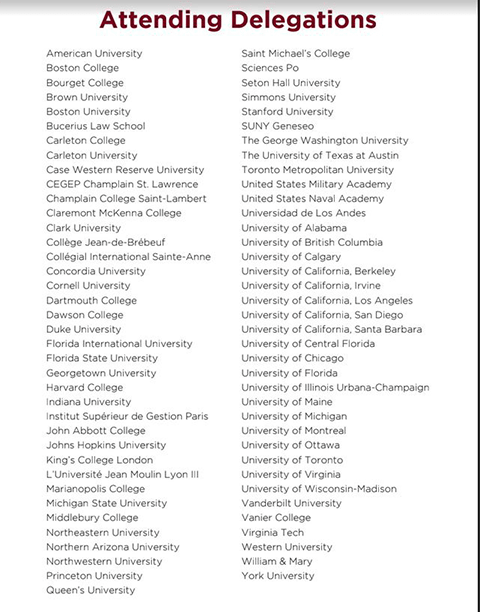 For example, some had assignments to a World Health Organization simulation, another to a Canada First Nations debate, and another to a simulation involving a crisis scenario in South Korea. One took part in a debate about Chile and educational reform.
Ayres said he sat in to observe "all kinds of interesting simulations" during the "long and involved conference." They drove up Thursday and got right to work with an opening assembly. A McGill professor there told delegates "we really need you to be engaged and thoughtful citizens of the world" in such unstable times. Students went right from there to committee assignments into late Thursday evening, and then had long full days Friday and Saturday in their lively discussions. McGill and other Model U.N. staff sat in on all the panels to assess performances for later awards at a final assembly.
Said Ayres, "I think it's a neat opportunity to build networking skills and our students enjoyed working in small groups with others from universities across America and beyond on many issues."  Ayres said he also had time to take the group to dinner in Montreal at a smoked meats restaurant and one brunch, but mostly they were "very diligent and took their roles very seriously." Along with those already mentioned, other St. Mike's student delegation members at McGill were Allison Achorn, Cassandra Holt, Ashley Silveria, Rosemary Marr, Eli Rankin, Spencer Slattery and Samuel Mercer.
Challenges of the weekend went beyond just time at the conference due to heavy snowfall. "It was really tough driving back," said Ayres. "Montreal must have five times more snow than we do down here! It snowed hard the entire drive from Montreal to the border, and then calmed down once we got into Vermont."