Stars are aligning in the budding film, media career of Ashley DeLeon '23
Hands-on learning, mentors at St. Mike's set course for success
In her post-graduation quest to build a name and career in the world of film and media, Ashley DeLeon '23 is making the most of her strong and directly relevant experience as a Saint Michael's College Digital Media and Communications recent graduate.
After Commencement, DeLeon, a Bronx, NY, native, returned home to the greater New York City area and jumped right into what she calls "lots of exciting stuff."
"I've received recognition at seven different international film festivals to date and have a lot more to hear back from since this is just the first handful I've applied to," she said in mid-June. "I'll hear back from the others in July, August, and September."
DeLeon shared a roundup of "where I'm at right now":
"In April, I heard back from the first festival, The Emerging Lens Film Festival, which is a Canadian Screen Awards qualifying festival. This is for my film The Silent Enemy: You Are What You Can't Eat. When a film is selected for a qualifying festival (i.e. Academy Awards, BAFTA, Canada Screen Awards, etc.), it gives the film automatic eligibility. Therefore, my film is now eligible for the Canadian Screen Awards and I can submit it to the Canadian Screen Awards in their next application cycle. This is Canada's equivalent of the Academy Awards, which is pretty exciting. The film was screened in Halifax, Canada on April 21."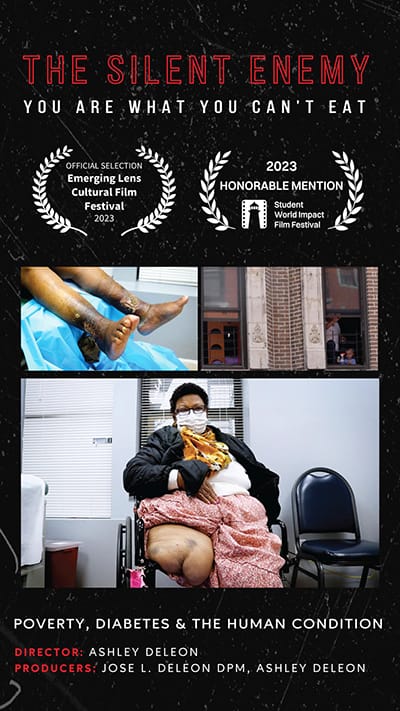 DeLeon disclosed that she also currently is in competition for the Student Academy Awards, but "can't release specific details about my competition status due to their publicity guidelines."
Additionally, she said, two of her films, Inside Voice: It's Not All About Me, and The Silent Enemy: You Are What You Can't Eat, have received recognition and an award nomination at the Student World Impact Film Festival, which is the largest student film festival in the world.
She said that festival received over 13,000 submissions this cycle from more than 120 countries. DeLeon's Inside Voice was named an official selection, and had been screened at the North American Premiere in June. "It has also been nominated for the top award in its category – Best Super Short Film, which is for best film under 15 minutes in length. The Silent Enemy, meanwhile, earned an honorable mention from the same festival, "which also awarded me with podcast opportunities to discuss the film that will be distributed on Spotify, Google Podcasts, Apple Podcasts, Audible, and Amazon Music," she said.
Other than that, she said, both of the aforementioned films were selected for the Lift-Off First Time Filmmakers Sessions Festival, which was streamed through Vimeo On Demand. Inside Voice also is a quarter-finalist at the Miami 4 Social Change Festival in Miami, FL.
"Overall, I'm stunned by the success of these films so far, considering this is only the first few festivals I've submitted to," DeLeon said.
 About the films:
DeLeon described her films that are drawing so much recognition and explained their connections to her good Saint Michael's experiences.
"Inside Voice is about one of my best friends– Grace Palmer '24. She moved to Nashville at 18-years-old to pursue a music career, but unfortunately, the pandemic had derailed her plans and she was forced to move back home to Connecticut. She made a decision to attend St. Mike's after deferring her enrollment to pursue music. Although she was hesitant to attend at first, she went in with an open mind and found her voice in environmentalism and became heavily involved in the music scene. She's a known name in the Burlington music scene, and has performed at Higher Ground, Red Square, Orlando's, etc. This film was originally produced for Intro to TV Studio Production."
As for The Silent Enemy, DeLeon describes it as "an intense film, which focuses on the debilitating effects of diabetes among Latinx communities in New York City, specifically Upper Manhattan and The Bronx. I co-produced this with my father, who is a reconstructive foot surgeon and podiatrist who specializes in treating diabetic patients in these areas."
"I interviewed my father, some of his patients, and many of his colleagues who are doctors in different areas of medicine that also specialize in treating these communities," the filmmaker said. "It focuses on the intersections of poverty, food insecurity, and culture, delving into how each of these factors play a role in diabetes progression. This topic hasn't received attention from mainstream media outlets, and I'm grateful for the opportunity to give international exposure to this issue and start conversations about health equity among underserved communities. The images seen at the beginning of the film are cases that my dad has treated over the years."
Faculty and staff difference-makers
DeLeon made a point to mention Saint Michael's faculty whom she regards as "the people who helped me get here."
"Professor Jon Hyde of the Digital Media and Communications (DMC) faculty [formerly Media Studies, Journalism and Digital Arts or MJD until this past year] is the one who encouraged me to pursue the diabetes film for Adventure & Environmental Filmmaking. I was unsure if I could handle a project of this magnitude at first, since it us an extensive topic, but he helped me at every step of the way. The environment is more than just trees and grass, and together we were able to construct an effective storytelling method to open the eyes of people who are unfamiliar with these issues."
DeLeon also mentioned the influence of Saint Michael's political science Professor Patricia Siplon. "She taught me a lot about health equity through the Community Health Action Network, a campus group that tried to be proactive during COVID, and when I took her junior seminar during my senior year simultaneously with Hyde's class, she encouraged me to integrate the film and its topic into my final research project," DeLeon said. "That allowed me to delve into the subject matter from a research standpoint and improve the film."
Kimberly Sultze of the DMC faculty also allowed DeLeon to pursue a written rendition of the film for Sultze's Nature & Outdoor Writing class, "which greatly aided in the storytelling construction and sequencing of the final film. It helped me generate ideas for additional intersections and footage to include," DeLeon said.
Beyond the classroom, DeLeon said, Patrick Bohan, director of the College's new Media Creation Studio, "taught me a lot about lighting, filming, editing, and sequencing, which was the launching point for Inside Voice. I had about seven different re-edits of the film at one point, and he walked me through each one and coached me in the process until I arrived at a version that I was satisfied with." DeLeon was a Student Studio Producer for the Media Creation Studio, paid through the College. Bohan was impressed by how motivated she seemed to be, making the most of a great opportunity and learning all that she could. "Ashley worked all five days  Monday through Friday in the spring semester, at least an hour a day, and usually more," he said.