International scholars group presents Bosia an award for his service
Michael Bosia of the Saint Michael's political science faculty in mid-March attended the annual meeting in Montreal of his professional association, the International Studies Association. Bosia has been active member of ISA since 2006, and was a founding member of the LGBTQA Caucus of the ISA.
At the meeting, Bosia was recipient of the 2023 Ladd Hollist Award for Service to ISA. The executive director, Professor Mark Boyer, PhD, who is Board of Trustees Distinguished Professor at the University of Connecticut), made the presentation with these laudatory words about Bosia's work for the association:
"Professor. Mike Bosia is the 2023 awardee of the Ladd Hollist Award for Service to ISA. Mike is a professor at St. Michael's College in Colchester, VT. Mike's research and teaching focus on economic justice, democratic practice, and state violence and human rights – by exploring the ethical in the political. In his work, he asks students and colleagues to think about the moral framework that informs politics and the ethical consequences of choices made within such frameworks.
"Within ISA, he has long worked to do the same, as he has recurrently been a strong voice pushing us all to consider marginalized groups and alternative perspectives on a wide variety of topics important to ISA, the profession and the world. Throughout his work within ISA, he has also searched for the building of constructive solutions to the problems of the day.
"He has been very active in ISA's LGBTQA Caucus, chaired ISA's committee on Representation and Diversity, was elected as a Vice President of ISA, served actively on the ISA Executive Committee and also chaired the Committee on Rights and Responsibilities most recently. He was also invaluable to ISA's leadership in helping the association navigate some of the political challenges we faced regarding several of our recent convention sites. As this record of service suggests, Mike steps up when asked and always does the job very well. I'm sure ISA's leadership will continue to seek him out for further roles in the coming years. Mike, thanks for everything you do for ISA. It is greatly appreciated."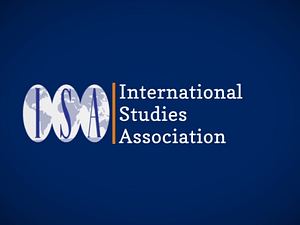 Also at the Montreal ISA meeting, Bosia presented a paper on a panel that he organized. This was the paper title: David Wojnarowicz and Queer Consciousness for an Age of Destruction. Wojnarowicz was an artist and prolific journal writer in the East Village until his death resulting from AIDS-related complications in 1992.
Bosia said the panel was entitled "Queer Stakes and Disruptive Politics in IR" with 50 scholars attending to hear presentations and commentary from scholars based in Quebec, Mexico, the U.S., U.K, and Germany, with experience and expertise in global politics and regions including Europe, the Middle East and North Africa, Sub Saharan Africa, South and Central Asia, and Latin America.
Bosia also was discussant on a panel entitled "From Everyday LGBTQ+ Activisms to Security and State Oppression," and presented on the roundtable "ISA in the World" as part of his membership on a presidential subcommittee examining that question.
Along with his Saint Michael's faculty roles in political science and international relations, Bosia is a Fellow with the Mark S. Bonham Centre for Sexual Diversity Studies, University of Toronto   –   Chair, Committee on Professional Rights and Responsibilities, International Studies Association.