Presenters discuss challenges of, solutions to burnout
Social Impact series brings student, faculty and staff experts to explain science of stress and a recent campus survey about it
It is easy to feel completely exhausted and overburdened by everything happening around us these days. Sometimes it is hard enough just to complete daily tasks at work or school. Add to that world events, social media, financial or personal struggles, and other stressors that can easily cause people to feel overwhelmed and anxious – often to the point where they burn out.
Neuroscience Professor Ruth Fabian-Fine and students in the Saint Michael's College Neuroscience Program late Wednesday afternoon in the McCarthy Recital Hall presented a scientific foundation to explain how stress, anxiety and burnout come about and how they manifest in the brain.
Student life VP Dawn Ellinwood, Bergeron Wellness Center Director Kathy Butts with Wellness Coordinator Bridgette Akins, and Tim Mackin of Academic Affairs also shared their observations of what they've seen around campus, how to spot signs of impending burnout, and what tools and resources are available to College community members so they can mitigate these feelings and avoid burnout.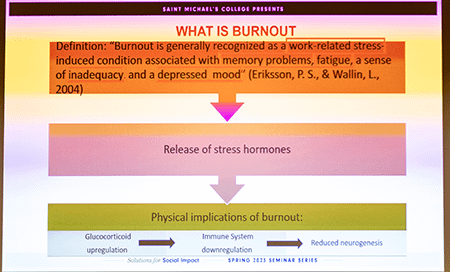 The student speakers were Shaun Clem '23, Taylor Galgay '24 and Anna Aiken '24.
This program was part of College's Solutions for Social Impact series and the first of these presentations of this semester, after three during the fall.
Professor Fabian-Fine opened the program from the podium at the side of the stage, with participants seated across the center throughout the program. Students made individual introductions of the faculty and staff mentors, and guided the audience through PowerPoint slides to explain the science of burnout and survey findings among the St. Mike's community on the topic, before inviting the guest panelists to weigh in.
Student Shaun Clem used slides to describe what neurogenesis mean in scientific terms. He mentioned that long-term exposure to stress hormones could lead to illnesses including cancer. Taylor Galgay continued to explain the science, including relevant background from a publication that interested her and the group. Anna Aiken told of background research she did on burnout effects, including an article on teachers (such as her own parents) and health care professionals, who showed increases in burnout from 200 to 300 percent during the pandemic – clearly a source of added stress for everybody including students.
Based on that background, Fabian-Fine and Aiken went on to share results from a survey of St. Mike's community members. Some interesting findings included that 48 percent of students, faculty and staff said they experience burnout on a regular basis, with only one percent NOT affected by it.
Of those, 25 percent did not seek professional help. A chart showed reasons for stress named in the survey, such as work overload (the biggest), family problems, unrealistic expectations, social concerns or job demands. Resources sought in response to burnout among the surveyed included Bergeron Wellness Center, therapy, and help from professors. Respondents indicated they would like to see such expanded resources as more intramural sports, personal finance resources, meditation groups, fitness classes or lounge options to address this issue.
The presenters then turned it over to the staff experts. Wellness Center Director Kathy Butts said she wanted to normalize the experience of anxiety, stress and burnout and the need to take care of ourselves and seek out help without stigma. She and others stressed the importance of sleep for everybody in countering stress and burnout.
"Part of learning is learning where are your boundaries, and we all make mistakes along the way," Butts said.
Dawn Ellinwood talked about how different the college experience is from when she was starting in the field 35 years ago or in college herself, largely due to social media and the added stresses that brings to us all.  She describe her healthy daily routine of activity, and habit of checking in on her staff, insisting on them taking needed time away. Dealing with stress is "all individualized since we are all bringing something different to the table," she said.
Tim Mackin took issue with the "language of burnout" since it does not stress enough the ability to bounce back, which he witnesses time and again among students he works with, happily. He emphasized the need to seek help and campus resources, since stress makes it a bad time for self-assessment and judgement about the best course forward without outside perspective.
Bridgette Akins, the Bergeron wellness coordinator, said that in her planned activities and education on this topic, she talks to students about approaching issues with "curiosity without judgement."
Fabian-Fine said taking on little portions of seemingly overwhelming tasks, one manageable bit at a time, is a strategy that works for her. Butts said she has seen so many students turn things around after hitting a tough spot with burnout, so others can feel confidence in the hope of getting through challenges to a point where they feel they can manage better again.
Questions from the audience brought a response from student Taylor Galgay about the importance of "being kind to yourself."
"Give yourself the grace of forgiveness," she said, adding that she is trying to change the culture from being so competitive and keyed toward the "perfect," even for students like her aspiring to a lofty goal like medical school. She expressed gratitude for the privilege of her quality Saint Michael's education, and a great support team from faculty and therapists.
The next Seminar for Social Impact on April 18 will be about "Biodiversity in Vermont" with Professor Declan McCabe of the biology faculty, and as with this year's earlier Solutions for Social Impact series presentations including the most recent, will be live-streamed.