Honors Student Testimonials
From former Saint Michael's students:

Lauren Ivers '20
One of the many reasons I chose to attend Saint Michael's College was its value of community. I was attracted to the small student-to-faculty ratio, commitment to service, and a variety of extracurricular activities. As a first-year student, I quickly learned that the Honors Program is a microcosm of Saint Michael's College. I found an even smaller community where I immersed myself in various student-centered extracurricular opportunities (e.g. the Honors Program Student Committee, mentoring program, and other event programming) and pursued rigorous academic opportunities (e.g. experiential learning, research, and service). I also had the honor of serving as President of the Honors Program Student Committee, which afforded me several opportunities to work with faculty, plan events, and connect with prospective students at SMC Open Houses.
The Saint Michael's College Honors Program greatly enhanced my traditional liberal arts Core Curriculum. As a biology major and chemistry minor pursuing a career in healthcare, I really valued the emphasis placed on interdisciplinary study. I took Honors courses in religious studies, biology, and literature, participated in local service opportunities, and attended live performances. These opportunities introduced me to a variety of contemporary social, cultural, and political themes, and facilitated active learning, deep reflection, and exhaustive discussion. I believe that the ability to examine complex issues, make informed decisions, and engage in civil discourse, is now more important than ever.
I am truly grateful for the SMC Honors Program, as it has stimulated my intellectual curiosity, critical thinking, and cultural competence. I am confident that the lessons, skills, and knowledge I've acquired through the Honors Program are invaluable for my future education and career, and I encourage all prospective students to explore the endless opportunities afforded by the Saint Michael's College Honors Program!
---
Patty Kohn '19
As a recent graduate of Saint Michael's College, I find that the most common question I am asked is, "do you believe your undergraduate experience has prepared you for the next steps?"
Currently, I am in the process of applying to doctoral programs in physical therapy, while working at the University of Vermont doing research in the pathology department. As a St. Mike's undergraduate, I majored in biology, with a pre-health concentration, and minored in psychology, chemistry, and music. In addition to my academics, I was a four-year Division II varsity swimmer and captain my senior year, a member of the Honors Program student committee and president my senior year, and a member and secretary of Beta Beta Beta, the biological honors society. I was also able to participate in a production of The Crucible and explore my interest in music and singing through my coursework. My diverse involvement in the Saint Michael's community allowed me to develop many leadership skills and enjoy a multitude of academic and artistic experiences that I am extremely grateful for and believe will allow me to embark on a successful future.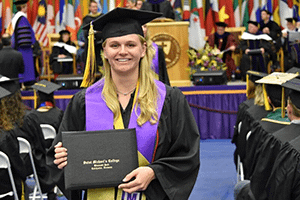 As a member of the Honors Program, the two opportunities that benefitted me the most were the honors colloquium and senior capstone project. The honors colloquium allows students to take the lead in discussions and learn how to have controversial discourse in a safe environment. Students have the power to engage in difficult conversations, and often find themselves developing and questioning their own moral ideals. This is a unique course, where the professors allow students from a variety of majors to be in control of the classroom and decide what topics will be discussed. This course brings students of all majors and all interests together. Furthermore, every senior in the Honors Program composes a senior capstone project. This capstone allows students to explore their curiosities and develop skills for deep and meaningful research. As an athlete and biology major, I was able to create a research presentation on the importance of hand- eye coordination in athletes and explore the biological mechanism associated with learning fine motor coordination skills.
As a member of the honors program committee, I had the opportunity to work with a variety of other students in the program and the honors program director, Dr. Joan Wry. Dr. Wry's goal is to make the program a place where students feel motivated and become passionate about their academic endeavors. In order to accomplish this, Dr. Wry created a student lounge for the honors program that is open 24/7 for group meetings, studying, or even just grabbing a cup of coffee. I am honored to have had the opportunity to work closely with her and cannot express how passionate Dr. Wry is both in the classroom and outside of it. She genuinely cares about the well-being of her students and loves to know the things we are passionate about beyond the classroom! I am lucky to call her not only an inspiration and mentor, but also a friend. Being a part of the honors program allows students to create close bonds with their professors that will last beyond the four years on campus. Professors genuinely care about the success of their students and will try to accommodate, challenge, and inspire students in any way that they can.
So, YES, I do feel that Saint Michael's has prepared me for my next steps. I am grateful for the experiences that I have had and look forward to staying connected to St. Mike's and using the valuable academic and personal lessons to create my future!
---
Kerra Photiades '18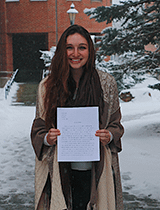 I was invited into the Honors Program upon my admission to Saint Michael's College. I honestly cannot communicate what I have gained, because it has become so entrenched in my Saint Michael's College experience. This campus offers a wide array of opportunities and areas of involvement, yet retains a holistic balance so as to make each separate part fit into a whole. The Honors Program fits in a similar way. It is a definer–it sets the tone–for all of my studies as opposed to existing as a separate component. The conversations and methods of discussion of Honors classes informed my perspective, indeed, informed my conception of how a perspective is built, for my full schedule of courses. In my Honors courses, and especially in my Honors Colloquium, the focus was not on having the answer, but in the space between questioning and answering.
Rainer Maria Rilke writes
"Be patient toward all that is unsolved in your heart and try to love the questions themselves, like locked rooms and like books that are now written in a very foreign tongue. Do not now seek the answers, which cannot be given you because you would not be able to live them. And the point is, to live everything. Live the questions now. Perhaps you will then gradually, without noticing it, live along some distant day into the answer."
It is in this approach that I benefitted from the Honors Program: learning and developing were about asking the questions and looking deeper into the reasons we ask these questions, and then naturally realizing our answers.
---
Brian Shearer '19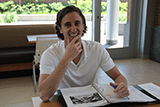 The Honors Program has unquestionably been a unique and formative aspect of my personal growth throughout my time at Saint Michael's College. Encouraged by an upperclassman to join the committee while in my first semester of college, I have since served as Class Representative, Faculty-Liaison, and now President.
Through small class sizes, elevated discourse, undergraduate research, and close connections and relationships with professors, the Honors Program has truly enhanced my intellectual curiosity and my love and desire for acquired knowledge, both in the classroom setting as well as through interactions with faculty and staff in event settings. The Honors Student Committee has provided me the opportunity to engage my community in a variety of ways as well as perform community service events. The program truly emphasizes learning through rigorous academics paired with extracurricular activity.
The Roman poet Ovid once said, "Note too that a faithful study of the liberal arts humanizes character…" The Honors Program at Saint Michael's College truly strives to be an enhancing experience, one that has promoted my intellectual growth as a student, helping to form me into more critical and reflective thinker, and encouraging active involvement in service to the community and the world. I will be forever thankful for amazing experiences I have had at Saint Michael's College.
---
Kate Gribbon '17
When I was accepted to Saint Michael's College, I was absolutely elated. As a prospective student, Saint Mike's was always the number one school on my list. It was exceptionally rewarding to know that I would soon be attending such a wonderful school.
I was aware that Saint Mike's had a wide variety of clubs, activities, and organizations that I had to opportunity to join. However, the Honors Program was not one initially on my radar, nor was it one I planned on joining. Then, in the first semester of my first year, I found myself working hard in the classroom, and enjoying myself outside of the classroom in activities like Intramurals and ShredMC. I was pleasantly surprised to learn that my grades granted me the opportunity to accept an invitation to join the Honors Program. I enthusiastically chose to become a member of the club, and I am very happy I did so.
The Honors Program encourages all of its members to attend its weekly meetings. When I attended my first meeting, I immediately felt comfortable and at home. The committee members were so welcoming that I began to religiously attend the meetings myself, and even participate in volunteering at Accepted Student Days that spring. I will gladly recommend the program because it encourages me to continue working hard as a student and provides me with a great group of friends who never fail to keep me going.
---
Alexandra Brown '17
I was invited into the Honors Program upon my admission to Saint Michael's College. Knowing that I would have the opportunity to be a part of a special community of students and faculty passionate about academic growth was part of my decision to attend St. Mike's. During my first year seminar on Drama and Culture, my learning extended beyond the classroom and into the local theater scene. I was not just reading plays, but also seeing and reviewing live theater. What I appreciate the most about the Honors Program is that the courses immerse you in the given discipline so that you are experiencing what you are learning. The Honors Program mentor/mentee program has been another highlight of my experience. My mentor was so supportive and involved during my first year that I was inspired to become a mentor myself. The Honors Program has enriched my experience at SaintMichael's College and I am grateful for the opportunities and experiences it affords.