International Women's Day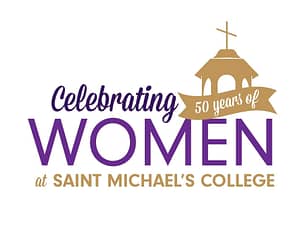 Saint Michael's College is celebrating International Women's Day and the contributions that outstanding women make to our community each and every day.
This year marks an important milestone for women at Saint Michael's College. In June, we will welcome our first women to the ranks of Golden Knight, those celebrating their 50th Reunion.
In honor of our first Golden Knight class to include women, we are reflecting on those early co-ed years and how the College has evolved over the past 50 years. We hope you enjoy the video below – a tribute to 50 years of women at Saint Michael's!
To read profiles from previous years, click here: 2019 | 2020 | 2021
To share your own story, click here.
---
International Women's Day Scholarship
The International Women's Day Scholarship was established in 2019 to support deserving female students in need of financial assistance and to celebrate the contributions of women within the Saint Michael's community.

Cassandra Holt '23