The Bergeron Wellness Center counseling staff includes two full-time counselors, one part-time counselor, and two counseling interns. Each counselor has a generalist background with specific areas of interest and expertise. They provide short-term mental health counseling for students, as well as referrals off-campus for longer-term counseling as needed. They work closely with the nurse practitioners and psychiatric nurse practitioners to support the holistic health of the student body.
If you would like to make an appointment with one of the counselors, please call The Bergeron Wellness Center at 802.654.2234.
---
Antonia is in her final year as a graduate student in the Mental Health Counseling Program at the University of Vermont. She has worked with college students for over 25 years, and is committed to helping students as they navigate a complex and challenging world. She hopes to offer a warm, accepting, and supportive space where students can share their stories, explore their concerns, and discover their strengths. As an Intern, Antonia's counseling style is still evolving, but she is drawn toward Narrative therapy, Internal Family Systems, and Person-Centered methodologies; Relationship and Career counseling are other strong interests. Antonia also draws from mindfulness and Feminist approaches and is committed to social justice and LGBTQA+ issues in her counseling. She is excited and honored to be a part of the Bergeron Wellness team.
Antonia Losano (she/her)
Mental Health Counseling Intern
she/her/hers pronouns
alosano@smcvt.edu
802-654-2234
---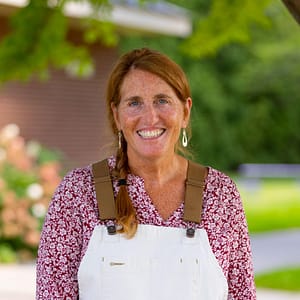 Erin received her master's in Counseling Psychology from Antioch New England and is a Licensed Clinical Mental Health Counselor. Erin's career has spanned working in Schools (Elementary, Middle, High School and Alternative Ed), in Community Mental Health, as a Psychology Instructor at CCV, Winooski (Introduction to Psychology/ Social Psychology), and working at the Vermont Student Assistance Corporation with first generation college students.
Erin's intention is to welcome, support, educate and encourage emerging adults in their pursuit of well-being. She offers strength based supportive counseling to aid in the adjustment to college, the understanding of developmental issues, skills to manage emotional experiences and guidance as students pursue academic, social, athletic, spiritual, community justice, and extracurricular endeavors. Erin draws upon relational interpersonal skills, an inclusive and empathic style, counseling aptitude, and professional and cultural experiences to provide an open space for exploration and possible growth.
Erin's lens is eclectic however her bent is to Cognitive Behavioral, Mindfulness-based, Narrative, and Positive Psychology. Erin supports students to connect with other resources on and off campus to strengthen personal, academic, or other skill sets. She feels honored to be a witness to the personal growth processes of, and privileged to work with, Saint Michael's College students.
Erin Altermatt, MA, LCMHC (she/her)
Mental Health Counselor
she/her/hers pronouns
ealtermatt@smcvt.edu
802-654-2234
---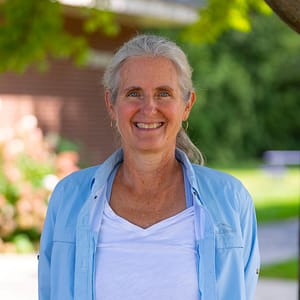 Kathy has been a mental health professional since 1993 when she earned her MA from Antioch New England Graduate School. She is a Licensed Clinical Mental Health Counselor and Licensed Alcohol and Drug Abuse Counselor. She has spent much of her career working with young adults and their families. Kathy has been a part of the Saint Michael's College counseling team since 2010, and the Director since 2014.  She has special interests in social justice, families, and human development across the life span, and the bedrock of her work is informed through lenses of Feminist Theory and Family Systems Theory.  Kathy enjoys supporting young adults to develop a compassionate understanding of themselves while addressing whatever challenges are most important to them.  She encourages the recognition, understanding and enhancement of their many strengths.  She is trained in Eye Movement Desensitization Reprocessing(EMDR), Exposure and Response Prevention(ERP) and Collaborative Assessment and Management of Suicidality(CAMS), and utilizes elements of Cognitive Behavioral Therapy, Dialectical Behavior Therapy(DBT), and Mindfulness Based Stress Reduction(MBSR) in her work.  In her free time, Kathy enjoys being in nature by walking, hiking, biking, gardening and swimming, and any type of team sport.  She also loves to read, cook, bake and spend time with her family and friends.
Kathleen Butts, MA, LCMHC, LADC
Director of Counseling
she/her/hers pronouns
kbutts@smcvt.edu
802.654.2310
---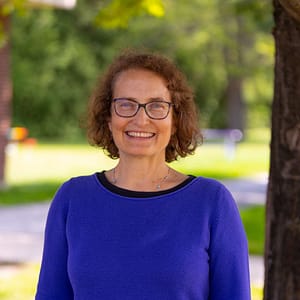 Sarah has been providing mental health services to young adults since 1994.  She is a Licensed Clinical Mental Health Counselor, an Apprentice Addictions Counselor and an Expressive Arts Therapist. She has a master's degree in Expressive Arts Therapies from Lesley University and a BA from Brandeis University. Prior to joining the SMC counseling team in 2014, Sarah was in private practice at the Adams Center for Mind and Body, specializing in helping individuals with eating disorders.  She has also served as drug and alcohol prevention and intervention counselor at Williston Central School CSSU school district. Sarah uses a student centered approach, focusing on student's goals, while encouraging personal expression and personal choice.  She is particularly interested in supporting students to work through issues with stress, anxiety, depression, eating disorders, communication skills, substance use and relationships.  She is very excited to be part of the Bergeron Wellness team and to help support SMC students reach for their dreams.  Sarah is currently working towards EMDR certification.
Sarah Klionsky, MA, LCMHC, AAP
Assistant Director of Counseling, Internship Coordinator
she/her/hers pronouns
sklionsky@smcvt.edu
802.654.2555
---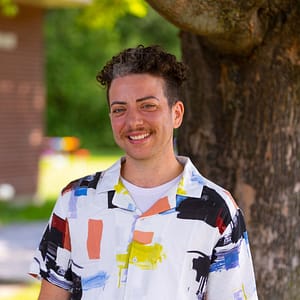 Noah received his Masters in Social Work with a certificate in trauma practice from Simmons University in 2020. During his clinical internships, Noah worked as an outpatient therapist in community-based settings and in college counseling at Wellesley College. Most recently, Noah worked as a Behavioral Health Clinician for an organization in Boston, MA which serves LGBTQ+ youth of color. Noah's approach seeks to incorporate clients' racial, cultural, and ethnic backgrounds into treatment whenever possible. As a social worker, he views clinical issues through a person-in-environment lens and understands how systemic oppression impacts overall mental health. Noah has experience working with survivors of partner abuse, people experiencing suicidality, people carrying trauma, and people with intersecting marginalized identities. He aims to help students explore issues with transition to a new environment, identity, relationships, stress, trauma, anxiety, depression, self-esteem, and developing a positive vision for their future. While he tries to always keep treatment attuned and tailored to the individual, his treatment style draws from Narrative Therapy, Relational Cultural Theory, trauma-informed approaches, and person-centered therapy. He is trained in EMDR.
Noah O'Leary, MSW
Mental Health Counselor
they/them/theirs or he/him/his pronouns
802.654.2234
---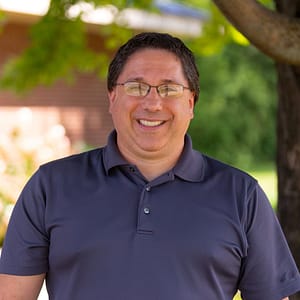 Travis is a Clinical Mental Health Counseling graduate student at the University of Vermont. He is also a full-time UVM employee as an Academic Advisor in the Grossman School of business, where he has an advising caseload of 170 students. Travis graduated from Castleton State College in 2001 with a B.A. in History and Secondary Education. He has spent the last 18 years in higher education, giving him a front-row seat to the growing need for college students to have access to mental health services. His experience comes from having worked with thousands of students in his career, centering his work on helping students adjust to college life and academics.
Travis is a native Vermonter, a first-generation college student, and he has a special place in his heart for first-time, first-year college students. His counseling style is first and foremost student-centered, using tools from narrative, career, and solution-focused practices. Outside of school and work you will find Travis sharing his love of modern hobby board games, playing with his 4- and 11-year-old children, or perhaps helping his wife attend to the 20-ish chickens and random gardens sprinkled around their house.
Travis Perry
Mental Health Counseling Intern
he/him/his pronouns
tperry@smcvt.edu
802-654-2234
---
Bridgette Akins is the SMC Wellness Coordinator, SBIRT Interventionist and certified health and life coach. She takes pride in her Southern roots and Northern boots. Born and raised in east Tennessee, she now resides in Vermont after layovers in upstate NY and eastern North Carolina.
Bridgette uses Motivational Interviewing along with her coaching techniques to engage students in meaningful conversation and support. Meeting students where they are, sometimes literally, allows the opportunity for contemplation and often change.
Striving to live out her purpose, she encourages students to do the same.  
Bridgette Alpha Akins
Wellness Coordinator
she/her pronouns
bakins@smcvt.edu
802-654-5230