Peer Tutoring Program
Saint Michael's College offers FREE academic assistance for select courses including Biology, Chemistry, Mathematics, Accounting, and more! Our peer tutors are carefully selected by faculty, highly qualified and thoroughly trained for their positions.
The first thing students should do if they're experiencing difficulty in a course is speak with the professor outside of class. No one knows the material in a particular course or how to teach it better than the professor, so always start there before considering peer tutoring.
Sometimes students who are working closely with their professor benefit from additional mentoring that another student can provide. In some departments—for example, math and chemistry— the demand for extra help is high, and we've attached one or more tutors for many of these courses. These "attached tutors" offer weekly opportunities for students to ask questions and review material in small group settings.
Instructions on how to view and schedule an appointment via TutorTrac can be found HERE.
St. Mikes additionally offers individual tutoring for select courses. Students are expected to have met with their professors first before considering individual tutoring. To request an individual tutor, please email Dina at dalsaffar@smcvt.edu.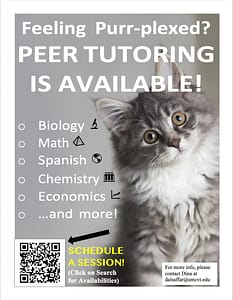 *Please note that our tutors are students just like you—they are not experts in the field nor do they always have the answers to all of your questions. This is why it is important you check in with your professors first. Additionally, just as we expect our tutors to be respectful and responsible towards their tutees, we ask the same of you while using our tutoring services.