Unofficial Transcripts
Current students and recent graduates of Saint Michael's College with access to their mySMC portal can easily download a copy of their unofficial transcript in KnightVision Self Service, using the instructions below. Former students without access to the mySMC portal may also request their unofficial transcript by completing Unofficial Transcript Request and sending it to the Registrar's Office.
How to Request your Unofficial Transcript by Email
If you are a former student without access to the mySMC portal, please complete, sign and email the Unofficial Transcript Request Form to registrar@smcvt.edu.
How to Download your Unofficial Transcript in KnightVision Self Service
To access Self Service, log into your mySMC portal and select the KnightVision Self Service link. Use your MikeNet credentials to log in to Self Service. (Note: make sure to type your username with all lowercase letters.)
On the Self Service home page, click on the grad cap image in the left hand tool bar (the Academics Section) and then select 'Unofficial Transcripts'.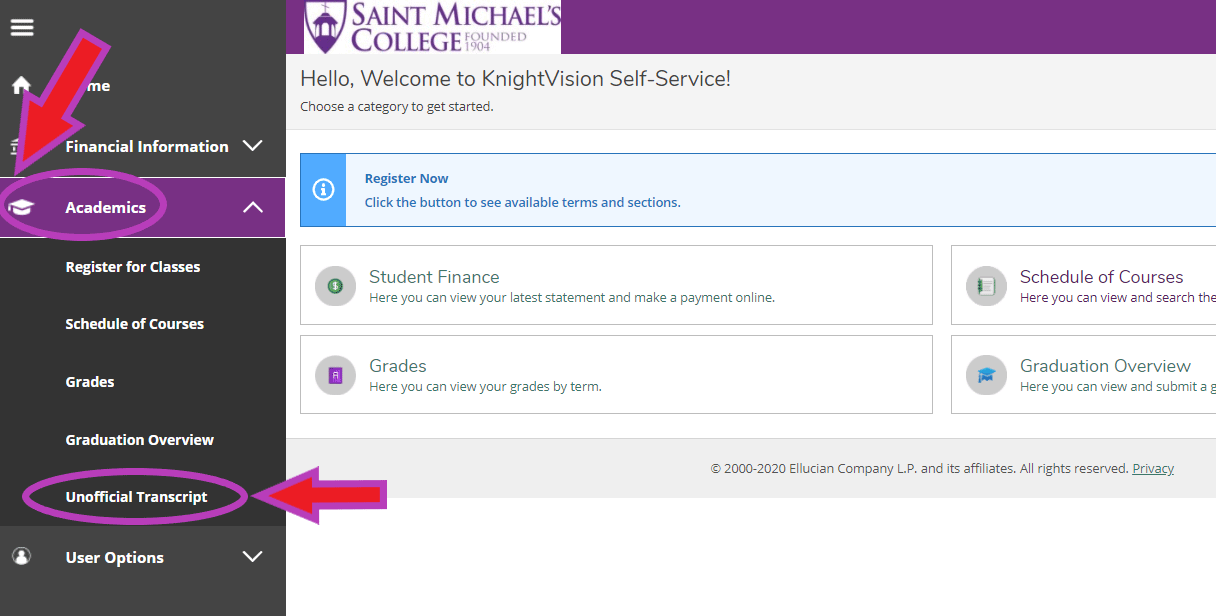 On the Unofficial Transcript page, click on either 'Graduate Transcript' or 'Undergraduate Transcript'. A PDF of the selected unofficial transcript will automatically download.
(Note: These Documents are unofficial and should not replace the official signed and sealed transcript provided by the registrar. Click here to learn more about how to request an official transcript.)