The Charles Wanzel Scholarship
Captain Charles J. Wanzel Memorial Scholarship Fund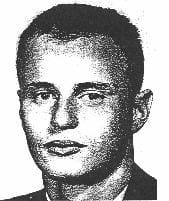 The Captain Charles J. Wanzel Memorial Scholarship Fund was established in 2019 following the Class of 1969's Fiftieth Reunion. Its purpose is twofold: to provide financial assistance to a worthy and deserving veteran or veteran's dependent, and to keep the memory of Charles "Chuck" Wanzel's accomplishments and sacrifice alive among both his classmates and the Saint Michael's College community.
Scholarship Recipient 2022

Daniel Armstrong '22
Major: Criminology
Hometown: Acton, Massachusetts
Service in the Marine Corps Reserve:
I enlisted in the Marine Corps Reserve in 2017 and went to boot camp at Parris Island, SC, about 2 weeks after graduating high school. After completing boot camp and infantry school, I got to my unit: Bravo Co. 1st Battalion 25th Marine Regiment 4th Marine Division. I then began school at St. Mike's. I missed my sophomore year to go on a scheduled Deployment (UDP 20.1). I spent about 13 months on active orders, with 9 of those months overseas. I spent time in Okinawa, Japan, Camp Fuji Japan, the DMZ in South Korea, and the Philippines. I signed a 6-year contract, so I have about a year and a half left in the reserve component. My MOS is 0311, infantry rifleman, and am currently a fire team leader and assistant squad leader.
Campus Involvements:
For the past two years I was an Orientation Leader. I really enjoyed this experience; it was a really great way to get to know my classmates as well as welcome the new students to campus. I also am a part of the Student Veterans of America chapter here at Saint Mike's. I have played different roles, such as Social Media officer, Vice President, and President. This club is my favorite part of school, as it helps me stay connected to military folks on campus. The SVA club also is great because we do a lot of volunteer work and service on campus and in the community.
What is your favorite thing about Saint Michael's?
My favorite thing about Saint Michael's is the community. I like the small school feel, where I have good relationships with my professors and mentors. The students at this college are also fantastic. I have made a lot of friends who come from very different backgrounds, and they are all so friendly and welcoming.
What are your career plans after you graduate?
Upon my graduation, I have been conditionally hired to become a Police Officer in the city of Everett, Massachusetts. I will be attending the Police Academy this summer, and am looking forward to continuing my service to the community.
Thank you:
Thank you so much for awarding me this generous scholarship! I am so appreciative of your generosity. This will help me pay for school, as the GI Bill does not cover my entire tuition here at Saint Michael's College. I am grateful for your continued support of the military community at Saint Michael's College, as we are a small community these days, but we still have a great impact on campus. Thank you again for your generous scholarship, this money will really lessen the burden that college tuition has on me, and will help me have financial security to plan for my future. Thank you for the award and support!
About Charles Wanzel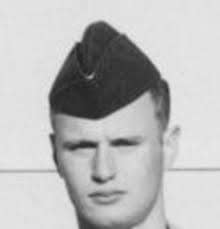 As written by Captain Wanzel's classmate, Bayard Tracy '69:
Chuck Wanzel was the only member of the Class of 1969 to die in combat in the Vietnam War, and his death was unknown to many of us for far too long.
He came to Saint Michael's in the fall of 1965 from Bayside, Long Island. He was a biology major. According to Mike Buszuwski '69, his roommate, Chuck was studious and quiet and was "concerned with the needs of others." His goal was to attend Cornell's School of Veterinary Medicine, but financial considerations forced a different choice. After graduation and sparked by a strong sense of duty, he joined the U.S. Air Force to fly.
Less than three years later on March 29, 1972, 1st Lt. Chuck Wanzel was the copilot of an AC-130 Hercules 'Spectre' gunship with a crew of 14, flying a secret, armed reconnaissance mission over the Ho Chi Minh Trail in southern Laos. According to reports, his plane was hit by one, possibly two Russian surface-to-air missiles. An F4 pilot, flying in support, stated that the C-130 crashed with no signs of survivors. Rescue efforts, hampered by heavy enemy activity and jungle terrain, were called off after only a few days.
Crew members were designated as MIA and would remain so for the next 7 years. On May 25, 1979, Chuck  Wanzel's status was changed to KIA whereupon he joined ranks with the other 58,219 American service members killed in the Vietnam War.
In February 1986, teams from the U.S. and Laos excavated the crash site and found limited remains, personal effects and pieces of plane wreckage. In October 1986, the U.S. government announced that the remains of Captain Wanzel and those of seven other crew members had been positively identified and were returned to their families. Follow-on surveys and excavations in 2005 and 2006 found more remains. On June 17, 2010, the unidentified remains of the 14-man crew were laid to rest at Arlington National Cemetery 38 years after their aircraft was shot down. Captain Charles Wanzel's name is listed on the headstone along with his other crew members.
Chuck was lost in the late days of the war. He was MIA for the majority of the '70s while the nation grappled with the aftermath of the Vietnam experience. By the time his status was changed to KIA, it was almost the '8s. America was moving on, putting Vietnam behind with a new president and outlook. Except for those suffering, the country's Vietnam involvement receded into the past.
From the Class of 1969's perspective, this was also the case with Chuck Wanzel. We didn't know of and/or forgot him and his sacrifice. This scholarship is an effort to keep his memory and story alive. As you plan your charitable giving for 2022 (remember, we have to take our required minimum distribution this year), please consider contributing to the Captain Charles Wanzel Memorial Scholarship Fund.
Donating to the Scholarship will honor Chuck Wanzel's memory, keep his sacrifice alive and help a deserving student meet his or her goals.
Scholarship Term and Financials
Through the Captain Charles J. Wanzel Memorial Scholarship, one student per year receives a scholarship award of approximately $7,500. The impact to the students and their families is immense, and continues to benefit the recipients as they graduate, join the workforce, and start families of their own. This term scholarship will continue to be awarded for as many years as funding remains available.