From St. Mike's to Twitch: Q&A with Alum Ben Lindemer
An influencer relations specialist and Saint Michael's graduate, Ben Lindemer '14 shares advice and insights.
When you're deciding which colleges to apply to or which one to enroll in, finding out where graduates work—and what they do—should be a huge factor in your decision-making process. 
And let's be real: It's a really good sign when those careers are someplace ridiculously cool. Like Twitch.  
Meet Ben Lindemer. A Business Administration major and Vermont native, Ben graduated from Saint Michael's College in 2014.
Now, he's got an awesome job with the world's biggest live streaming platform for gamers. Take a look.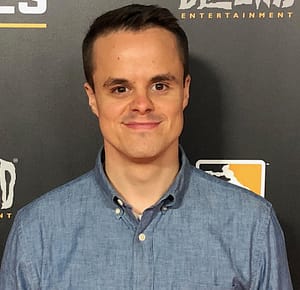 What do you do at Twitch? And how'd you end up there?
My role with Twitch & Amazon Advertising is within the Brand Partnerships Studio (BPS). My team, Influencer Relations, is responsible for identifying, recommending, and contracting influencers that execute sponsored broadcasts/streams on the platform. We evaluate the creative concepts that are pitched to brands and advertisers who are looking to activate with streamers on Twitch. We ensure the ideas are feasible, interesting, and fun for the brands, influencers, and their audience. Our team then decides which influencers across all of Twitch would be best fit to bring the campaign creative to life for the brand partner. 
I love the role because it is a perfect hybrid between my previous two jobs where I worked directly with influencers at a multi-channel network and then directly with brands on the agency side. The BPS team is also incredible and the Twitch environment is unmatched, even while working remotely. One of the core functions of my job is to watch a lot of Twitch and have an understanding of a massively diverse pool of creators who could execute the most unique creative ideas, which is awesome! 
One recommendation I always share with students is to network, network, network. I ignored networking for a long time, and hated hearing the word, but once I networked with family friends, I went from a small-town Vermont kid to landing awesome roles in New York City, which has led me to where I am today.  
What made you choose St. Mike's for your undergrad degree?
I chose St. Mike's because of the community feel it has in comparison to large universities. I originally applied to the University of Vermont and St. Mike's, and chose St. Mike's because I wanted to feel like part of a tight-knit community instead of being another face in a massive crowd on campus. 
I'm also from Stowe, Vermont, so the distance from home (45 minutes) was awesome for easy access to home cooking and family. After your first semester, almost everyone on the St. Mike's campus feels like a familiar face, which really delivers on the community feeling that I was hoping for. 
I also found it incredibly easy to find new friends through common interests—such as hockey, sports, and gaming.
In what ways do you think St. Mike's helped prepare you for your career?
I had no idea what I wanted to do after college, so I chose a degree in Business Administration, a minor in Marketing, and a concentration in International Studies. I felt that would give me a great base to work with when choosing my path after I graduated, and it did. 
St. Mike's offered a diverse pool of business courses that helped me figure out what aspects of the industry I liked (marketing), and which aspects I knew were not for me (finance and accounting). 
The professors within St. Mike's business department are also unbelievably amazing. 
I was not the best student growing up, but I put the work in at St. Mike's by attending office hours regularly and staying ahead of my workload. The teachers really want you to be successful in your courses, and regularly go above and beyond to ensure you have the support you need to understand the course material and succeed. 
Due to their support, I was able to graduate Cum Laude and was inducted into the Sigma Beta Delta International Honor Society for Business, Management, and Administration. 
What kind of student is St. Mike's perfect for?
St. Mike's is perfect for a student who wants to feel like part of a community and wants to be able to recognize and interact with everyone around them, whether a close friend or a stranger. 
The campus is also very inclusive; it felt like a completely judgement-free environment where everyone is encouraged to be themselves. 
I was a very passionate gamer growing up and through college, hence why I work at Twitch, but during the evenings and weekends I was still able to hang out with school athletes and whoever else I wanted to. 
St. Mike's is also a great pick if you're not sure what you want to do after you graduate and would like to dip your toes in a number of subjects.
Got a favorite class or experience at St. Mike's that reinforced your decision to go there?
The professors reinforced my decision; I could not have gotten better support to help me succeed. There are too many amazing professors that I would like to shout out across the courses that I took while at St. Mike's. However, two classes and professors that truly stood out were Steven Doyon (Accounting & Finance), and Paul Olsen (Business & Management). 
Accounting & Finance were not my strongest subjects, but Steven seemed to always be in his office, even into the evenings, with an open door to students that need help. He helped me a lot outside of normal course hours to ensure I understood the material. 
Paul Olsen made his Management courses relatable, engaging, and fun. He took a subject matter that some may find monotonous and helped me to understand how to manage and how to interact with my managers after I graduated through hands-on exercises. 
Any advice for students considering St. Mike's?
If you're looking for a place where you will belong and fit in no matter who you are and what your interests are, I would strongly recommend St. Mike's. Circling back to the community feel on campus, once you engage with a small group of people that circle of friends will expand very quickly and you will feel like a part of St. Mike's, not just a small subset of the community.
—-
Thanks for learning about one of our many impressive grads (and thank you, Ben!). 
Want to explore St. Mike's even more? The best way is to come see us.