William E. Kelly '65 leaves $2.3 million bequest to Saint Michael's College
The estate of William E. "Bill" Kelly, PhD, a beloved political science professor at Alabama's Auburn University, has presented a remarkable gift of more than $2.3 million to Saint Michael's College, his undergraduate alma mater in Colchester, Vermont.
---
Saint Michael's receives $1M gift in support of Career Services
A gift of $1 million to Saint Michael's College from Antonietta "Toni" Boucher to honor her late husband, Henry "Bud" Boucher, Jr., will support the institution's Career Education Center. Mr. Boucher died in January 2021.
---

The lives he touched
To generations of students at New York's Harrisville Central School, Marcel LeBlanc was a role model or mentor, and more. And upon his death in late 2020, Marcel put a beautiful final coda on his career as an educator by bequeathing $100,000 to Saint Michael's, a gift that will educate and inspire generations of Purple Knights, including those following in his footsteps.
---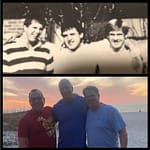 Kindness repaid by paying it forward
Ed Mitchell loves St. Mike's. You can hear it in his voice, the way he fondly remembers professors and mentors. The way he laughs when recalling friends and roommates, reunions and Rasputins. And the way he wants today's students to have the same great liberal arts education and college experience he had. Better, even.
---
The path to success begins at St. Mike's
Like so many of her classmates and friends, Marie (McDonnell) Colbert '89, P '24 has always loved St. Mike's. But as a Steering Committee member of the All in for St. Mike's capital campaign, Marie and her husband Vin have taken their commitment to SMC to a whole new level.
---

The Urban L. Bergeron Scholarship Endowment Fund
For nearly a century, the family of Urban "Ben" Bergeron has been beloved and respected on the Saint Michael's College campus. Now, to celebrate the family patriarch during the 50th reunion year of his son Jack ('70), his family has generously increased the Urban L. Bergeron Scholarship Endowment to $1 million, continuing an affordable path to a Saint Michael's education for 23 grateful past recipients and countless more in the future.
---
Barry Roy '67 leaves St. Mike's largest gift in school history
Class of 1967 alumnus and longtime Trustee Barry Roy bequeathed $4 million to Saint Michael's College through his estate, the largest single gift in the school's 117-year history, College officials announced on January 15, 2021. President Lorraine Sterritt says the former trustee and business leader's gift represents a clear signal of faith in Saint Michael's College and the career outcomes of a liberal arts degree.