20 Reasons Burlington, Vermont is the Best College Town
From the professional opportunities to the ice cream, Burlington is one of the top college towns in America.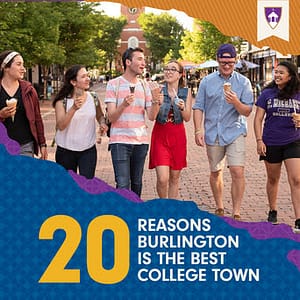 At Saint Michael's College, we think our home City of Burlington, Vermont, is the best. Sure, we may be biased, but Travel & Leisure Magazine agreed with us: Burlington is one of the top college towns in America. With 14,000 college students calling Burlington home every year, here are just some of our favorite things.
All the restaurants.

No matter what you're craving, Burlington has you covered, from luxury chocolatiers to eclectic diners to Korean rice bowls.

Life on the water!

Located right on beautiful Lake Champlain, Burlington offers a wealth of beaches, boating, kayaking, fishing, and more.

Entrepreneurship flourishes.

Burlington is a small business's dream community, with startup collectives and ample funding available for those who want to start their own company. From sustainable clothing boutiques to sporting goods stores to biotech research, businesses of all kinds can find their footing here.

Winter sports.

From ice skating to cross country skiing to snowboarding—or just drinking hot chocolate in a lodge—Burlington and its surrounding area offer lots of ways to spend the colder months.

Internships everywhere.

Experiential learning is an important part of the curriculum at St. Mike's. Get paid and/or earn credit for

internships

at local companies like Global Foundries, GE Medical, Burton Snowboards, Dealer.com, and Ben & Jerry's.

Socially conscious ice cream.

Started in 1978 in a renovated gas station in downtown Burlington, Ben & Jerry's offers sweet treats for everyone, including lactose-free and vegan. 

Get from here to there.

Burlington offers bike trails and walking paths throughout the area. The Greenway, which runs the length of the city from north to south, is especially popular as it runs right along Lake Champlain.

Easy to get around.

If where you're going is a little too far to walk or bike, you can take advantage of the city's bus system, Green Mountain Transit.

Happy and healthy.

Vermont is the healthiest state in the country, according to the

United Health Foundation's America's Health Rankings annual report

. 

Church Street Marketplace District.

This historic area where you can shop, dine, and stroll has been named

one of the Great Public Spaces in America by the American Planning Association

.

Leaf peeping!

It has to be said: Autumn in New England is simply stunning, and Burlington offers sweeping views of red, orange, and gold fall foliage, as well as quaint covered bridges nearby. 

Sustainable agriculture.

From organic produce to pasture-raised local meats to locally made maple syrup, Burlington offers truly farm-to-table eating. (BTW, St. Mike's has our own organic garden and 

farm stand

 during the growing season.)

Get back to nature.

Hiking opportunities abound in Burlington, whether you tackle part of Long Trail (the oldest long-distance hiking trail in the U.S.) or keep it local and visit a scenic waterfall for a dip.

Access to the whole world.

Saint Michael's is located just a few miles away from Burlington International Airport, making it easy for you to make the trek home to see family or overseas for a

study abroad or international internship adventure

. 

Expand your creative mind.

Burlington is an imaginative place full of professional and recreational artists. Explore galleries, attend concerts, participate in community storytelling, and contribute to public artwork projects.

Get in touch with the past.

Burlington is a historic town with deep roots. Learn more about yesteryear at the eclectic Shelburne Museum, the birthplaces of former U.S. presidents, and homesteads from the 1700s.

Road trip!

From the quaint town of Stowe to the winding mountain roads up to Smugglers Notch, Burlington offers quick access to unique areas for a change of pace.

Parlez-vous français?

Burlington is less than two hours from Montreal, Quebec in Canada, the second-largest French-speaking city in the world.

Networking turns into job offers.

With the skills you'll learn in our

Career Readiness Program

, you'll be prepared to capitalize on St. Mike's vast professional connections in the area. Our graduates are employed at places like Beth Israel Deaconess Medical Center, Brown Brothers Harriman, Clemson University, Harpoon Brewing, KPMG, and U.S. Bank.

A little bit of everything.

Burlington boasts a mix of urban and suburban areas, offering the right vibe for just about anyone, from the trendy vibe of the Old North End to the bustling Downtown to the artsy South End.
Learn more about what Saint Michael's College loves about Burlington and Vermont, and make a plan to come visit us to see for yourself!