First Year Seminar: Common Text
Each year, Saint Michael's College chooses a common text to be read and discussed by the incoming class of new students. All first-year students are asked to read the book over the summer prior to arriving on campus. A panel discussion of the book is held during Orientation in late August, and each First-Year Seminar discusses the book at the start of the fall and spring semesters.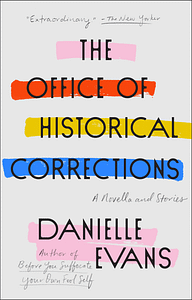 The Common Text for 2022-2023 in The Office of Historical Corrections by Danielle Evans. The Office of Historical Corrections (2020) is a collection of six short stories and one longer story, the title novella, which serves as the book's deft and haunting final piece. It is this novella specifically, a powerful work of contemporary fiction, that is the First-Year Seminar Common Text for 2022-2023. Throughout the collection of stories, author Danielle Evans combines humor, sharp observation, and insightful reflections on human relationships with explorations of race, gender, class, and culture in the past and present. Her characters grapple with love, friendship, and grief. In the novella The Office of Historical Corrections, a black scholar from Washington, D.C. is drawn into a complex historical mystery that spans generations and puts her job, her love life, and her oldest friendship at risk. Evans examines how history is often reshaped for the sake of comfort over truth, and she provokes us to think about the truths of American history—about who gets to tell them, and the cost of setting the record straight.
About the Author
Danielle Evans is an award-winning author and a teacher of creative writing. After majoring in anthropology and African American Studies at Columbia University, she earned her MFA in fiction from the Iowa Writers' Workshop. Her debut book, Before You Suffocate Your Own Fool Self, is a critically acclaimed collection of short stories about mixed-race and African American teenagers, women, and men and their struggle to belong. This first collection of stories won several fiction prizes. The Office of Historical Corrections is her second collection, which again won several literary awards and was a finalist for multiple others. Evans is the 2021 winner of The New Literary Project Joyce Carol Oates Prize, a 2020 National Endowment for the Arts fellow, and a 2011 National Book Foundation 5 under 35 honoree. Her stories have appeared in magazines including The Paris Review, A Public Space, American Short Fiction, Callaloo, The Sewanee Review, and Phoebe, and have been anthologized in The Best American Short Stories 2008, 2010, 2017, and 2018, and in New Stories from the South.
Summer Assignment
Students will be asked to write a response to the Common Text. Check your SMC email in early August for your summer writing assignment. It will be sent by your First-Year Seminar instructor and will be due the first week of classes. (Note: Students in spring seminars will get their assignment over the winter break between semesters, but they should still read the book over the summer.)
Three essays by faculty responding to the book will also be posted on the SMC portal by the end of July. You will receive an email informing you when they are available. Your FYS instructor will expect you to have read the essays and may ask you to incorporate responses to them into your own essay about the book.
For more information, contact:
Peter Vantine
Director, First-Year Seminar Program
Associate Professor of Modern Languages
Joyce 155 / Box 276
802.654.2853
pvantine@smcvt.edu
Past First-Year Seminar Common Text Selections
| | | |
| --- | --- | --- |
| 2021-2022 | Robin Wall Kimmerer | Braiding Sweetgrass: Indigenous Wisdom, Scientific Knowledge, and the Teachings of Plants |
| 2020-2021 | Michelle Kuo | Reading with Patrick: A Teacher, a Student, and a Life-Changing Friendship |
| 2019-2020 | Francisco Cantú | The Line Becomes A River: Dispatches from the Border |
| 2018-2019 | Lin-Manual Miranda | Hamilton: The Musical |
| 2017-2018 | Ta-Nehisi Coates | Between the World and Me |
| 2016-2017 | Loung Ung | First They Killed My Father: A Daughter of Cambodia Remembers |
| 2015-2016 | Emily St. John Mandel | Station Eleven |
| 2014-2015 | James Baldwin | "Sonny's Blues" |
| 2013-2014 | The Book of Job | |
| 2012-2013 | Nicholas Carr | The Shallows |
| 2011-2012 | Jonathan Safran Foer | Eating Animals |
| 2010-2011 | Elizabeth Kolbert | Field Notes from a Catastrophe |
| 2009-2010 | Kafka | The Metamorphosis |
| 2008-2009 | Simon Wiesenthal | The Sunflower |
| 2007-2008 | Isak Dinesen | "Babette's Feast" |
| 2006-2007 | Khaled Hosseini | The Kite Runner |
| 2005-2006 | Yann Martel | The Life of Pi |