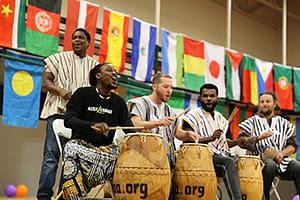 We are a unified body of students at Saint Michael's College that establish an organization to provide educational sanctuary where concepts of multiculturalism and ideologically diverse perspectives aid the individual intellectual with a new sensitivity, awareness and understanding for a global community.
The Diversity Coalition holds events like the Community Potluck, International Festival, Latin Night, Karaoke Night, Afro-Caribbean Night and more!
Meeting times are determined by club membership each semester. The group will meet in the Alliot 223 Conference Room.
To learn more about the Diversity Coalition or to join email diversitycoalitionsmcvt@mail.smcvt.edu or follow us on Instagram at @smcvt.dc