Start with SOAR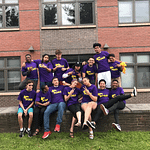 What is the Summer Orientation Academic Retention program (SOAR)?
SOAR is a highly selective program designed for incoming first-year students who are interested in spending time with diverse, international, and multilingual people while learning how to make their first year at Saint Michael's College rewarding and successful. Typically, most participants identify as BIPOC, first-generation college-bound, and/or international students.  
Through SOAR you will:  
Meet and learn from peers before the academic year begins. 

Travel to and experience local areas in Vermont. 

Meet deans, advisors, and directors on campus, including Bergeron   Wellness, Adventure Sports Center, and more.

Participate in outdoor activities through the Adventure Sports Center.

Start getting comfortable with the St. Mike's campus. 

Gain cultural understanding along with peers and staff.

Build connections with fellow first-year students.
Application Information
Applications for Participants: The Office of Admission will inform you of the application process once you have been accepted.
Applications for Leaders: coming soon